Associate of Applied Science
With the right skills and a positive attitude, you can be indispensable! As an administrative professional, you will have a variety of responsibilities to help an office run smoothly. You would be a good communicator with excellent computer skills who enjoys working with a variety of people, and willing to take on whatever challenges come your way. In this career, you could be planning events, creating presentations, making basic spreadsheets, formatting business correspondence, or training others on computers or software.
Students learn the latest office technology, develop communication skills, learn database and spreadsheet functions, and are introduced to basic business principles. Field experience is part of the curriculum.
Courses are offered in a traditional face-to-face environment, online format, through interactive distance learning, or a blend of the formats. You choose your educational experience.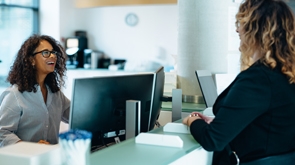 Administrative Assistant
Executive Secretary
Office Assistant
Receptionist
Office Associate/Assistant
Secretary
Use effective communication skills
Apply mathematical concepts
Transfer social and natural science theories into practical applications
Demonstrate ability to think critically
Demonstrate ability to value self and work ethically with others in a diverse population
Use technology effectively
Make decisions that incorporate the importance of sustainability
Demonstrate effective workplace communications.
Apply technology skills to business and administrative tasks.
Perform routine administrative procedures.
Manage administrative projects.
Manage internal and external relationships.
Model professionalism in the workplace.
Program Specific Requirements
Writing/English:
ACT: 16
COMPASS: 56
ACCUPLACER: 55
Reading:
ACT: 13
COMPASS: 60
ACCUPLACER: 70
Math/Pre-Algebra:
ACT: 16
COMPASS: 34
ACCUPLACER: 46