Associate of Applied Science
With the right skills and a positive attitude, you can be indispensable! As an administrative professional, you will have a variety of responsibilities to help an office run smoothly. You would be a good communicator with excellent computer skills who enjoys working with a variety of people, and willing to take on whatever challenges come your way. In this career, you could be planning events, creating presentations, making basic spreadsheets, formatting business correspondence, or training others on computers or software.
Students learn the latest office technology, develop communication skills, learn database and spreadsheet functions, and are introduced to basic business principles. Field experience is part of the curriculum.
Courses are offered in a convenient online format.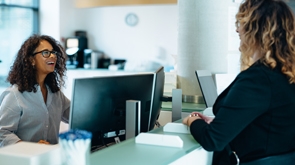 Administrative Assistant
Executive Secretary
Office Assistant
Receptionist
Office Associate/Assistant
Secretary
Living responsibly
Refining professionalism
Cultivating passion
Demonstrate effective workplace communications
Apply technology skills to business and administrative tasks
Perform routine administrative procedures
Manage administrative projects
Manage internal and external relationships
Model professionalism in the workplace
College Requirements
High School Transcript or GED/HSED
Program Requirements
Western Technical College uses ACCUPLACER, a computer-based, online assessment that measures your abilities in reading, sentence skills, and arithmetic. This information will be used to place you in courses that best fit your academic goals. Based on your scores, you may need to take additional general studies course(s) along with the general studies courses required for your program.
Several options for waiving the ACCUPLACER test are available; view the waivers here.
Learn more about placement tests and how they are used at Western: Placement Testing.