Certificate
Not Financial Aid Eligible
This program teaches you how to operate Computer Numerical Control (CNC) milling and turning machines and perform minor setups. Employers are looking for CNC operators who have math, print reading, measurement, and inspection skills. This certificate provides these important skills, and the credits apply directly toward two of Western's machining technical diplomas. Get an entry-level operator job and continue your education for further career opportunities.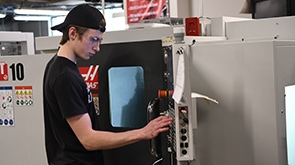 College Requirements
High School Transcript or GED/HSED
Program Requirements
Western Technical College uses ACCUPLACER, a computer-based, online assessment that measures your abilities in reading, sentence skills, and arithmetic. This information will be used to place you in courses that best fit your academic goals. Based on your scores, you may need to take additional general studies course(s) along with the general studies courses required for your program.
Several options for waiving the ACCUPLACER test are available; view the waivers here.
Learn more about placement tests and how they are used at Western: Placement Testing.