Technical Diploma
The Culinary Assistant program will help you develop the skills necessary to pursue a career in the food-service industry in a variety of settings. You will start with the basic theory and techniques of food production and service, then move on to hands-on training and experience in all areas of basic quantity food preparation as well as kitchen and dining room operations.
The third term of this technical diploma Includes field experience where you will have the opportunity to select an approved food service facility in which to apply learned theory, such as costing, customer service, and set ups.
Upon completion of the program, you may continue on the Culinary Management pathway to develop supervisory and management skills.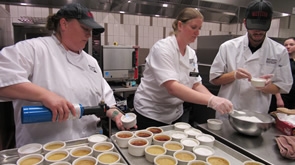 Chefs and Head Cook
Cook/Personal Chef
Food and Nutrition Services Assistant
Pastry Baker
Living responsibly
Refining professionalism
Cultivating passion
Apply principles of safety and sanitation in food service operations
Apply basic principles of nutrition
Demonstrate basic culinary skills
Assist in food service management
Assist in planning menus
Explore food service financial information
College Requirements
High School Transcript or GED/HSED
Program Requirements
Western Technical College uses ACCUPLACER, a computer-based, online assessment that measures your abilities in reading, sentence skills, and arithmetic. This information will be used to place you in courses that best fit your academic goals. Based on your scores, you may need to take additional general studies course(s) along with the general studies courses required for your program.
Several options for waiving the ACCUPLACER test are available; view the waivers here.
Learn more about placement tests and how they are used at Western: Placement Testing.