Associate of Applied Science
If you're a people person and like a fast-paced atmosphere, consider a culinary career. Opportunities abound in restaurants, healthcare facilities, institutions, and other areas where food is prepared and served. Our Culinary Management program prepares you for supervisory and management positions in the field by introducing you to the many types of operations within the food service industry and engaging you in performance-based instruction.
Culinary management students are taught how to train and supervise employees effectively and manage a food service operation efficiently.
In addition to obtaining general knowledge about the industry, students gain skills in critical thinking, computer use, human relations, and organization through classroom instruction, seminars, and on-the-job experiences. Students are given the opportunity to graduate with the nationally recognized ServSafe sanitation certification as well as learning the Hazard Analysis Critical Control Point (HACCP) food safety system.
*HACCP was developed by NASA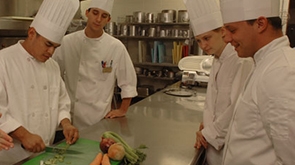 Dietary Manager
Food and Beverage Manager
Dining Room Manager
Catering Manager
Bakery and Deli Manager
School Food Service Manager
General Manager (GM)
Living responsibly
Refining professionalism
Cultivating passion
Apply principles of safety and sanitation in food service operations
Apply principles of nutrition
Demonstrate culinary skills
Manage food service operations
Plan menus
Analyze food service financial information
Relate food service operations to sustainability
College Requirements
High School Transcript or GED/HSED
Program Requirements
Western Technical College uses ACCUPLACER, a computer-based, online assessment that measures your abilities in reading, sentence skills, and arithmetic. This information will be used to place you in courses that best fit your academic goals. Based on your scores, you may need to take additional general studies course(s) along with the general studies courses required for your program.
Several options for waiving the ACCUPLACER test are available; view the waivers here.
Learn more about placement tests and how they are used at Western: Placement Testing.