Certificate
Not Financial Aid Eligible
Do you have good mechanical skills, but need electrical knowledge to pursue an industrial maintenance career?
This 16-credit, certificate program is designed for working adults who are looking for just the electrical related coursework of our industrial maintenance technical diplomas. The Electrical Fundamentals & PLCs certificate is offered in a part-time, two-semester format and covers electricity fundamentals, electronic component applications, soldering, and basic motor controls including variable frequency drives (VFDs). Entry-level installation, programming, and troubleshooting of Programmable Logic Controller (PLC) systems, along with an introduction to touch screens is also addressed.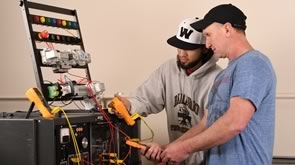 Electric Motor Repairman
Electrical Maintenance Technician
Electrician Apprentice
Elevator Repair and Maintenance Apprentice
Field Service Technician
Machine Repairer
Maintenance Electrician
Maintenance Man
Maintenance Technician
Power Tool Repair Technician
Repair Technician
Service Technician
Wiring Technician
College Requirements
High School Transcript or GED/HSED
Program Requirements
Western Technical College uses ACCUPLACER, a computer-based, online assessment that measures your abilities in reading, sentence skills, and arithmetic. This information will be used to place you in courses that best fit your academic goals. Based on your scores, you may need to take additional general studies course(s) along with the general studies courses required for your program.
Several options for waiving the ACCUPLACER test are available; view the waivers here.
Learn more about placement tests and how they are used at Western: Placement Testing.