2016 Commencement Ceremony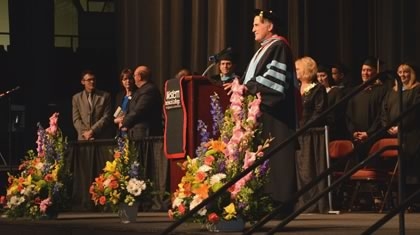 Location:
La Crosse Center, 300 Harborview, La Crosse, WI
Graduates of December 2015, April 2016 and Summer 2016 will be honored in a commencement ceremony:
Saturday, April 30, 2016
2:00 p.m.
La Crosse Center
300 Harborview
La Crosse, WI
Graduates should report to North Hall no later than 1:30 p.m. for line-up and further instructions.
Flowers for the graduate will be available for sale by Grad Flowers with all proceeds supporting scholarships at Western Technical College. All forms of payment will be accepted.
Graduates and guests should plan to remain in the arena for the entire ceremony, which typically lasts about two hours. Following the ceremony, there will be a reception in North Hall for graduates and guests.
For more information about the Commencement ceremony contact:
Julie Lemon
Administrative Center, Room 317
lemonj@westerntc.edu
608-785-9890