Associate of Applied Science
A career in finance may be rewarding for the person with a head for numbers and a desire to help people and organizations with their financial goals. If that describes you, take a look at our program.
Among the topics covered are economics, software applications, customer service, insurance, risk management, business law, banking, and investment principles.
Graduates of the program are prepared for careers in banking, insurance, financial planning, and investments.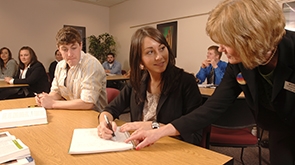 Budget Analyst
Brokerage Clerk
Credit Analyst
Financial Analyst
Financial Accountant
Account Implementation Consultant
Insurance Underwriter
Credit Counselor
Loan Officer
Living responsibly
Refining professionalism
Cultivating passion
Analyze financial statements
Create reports
Analyze investments
Develop short and long term personal goals
Apply financial laws and regulations
Demonstrate an understanding of the role of financial institutions
Create and analyze budgets
Evaluate and sell financial products
Recognize the interconnectedness of the global economy
College Requirements
High School Transcript or GED/HSED
Program Requirements
Western Technical College uses ACCUPLACER, a computer-based, online assessment that measures your abilities in reading, sentence skills, and arithmetic. This information will be used to place you in courses that best fit your academic goals. Based on your scores, you may need to take additional general studies course(s) along with the general studies courses required for your program.
Several options for waiving the ACCUPLACER test are available; view the waivers here.
Learn more about placement tests and how they are used at Western: Placement Testing.