Technical Diploma
Create a solid foundation in the financial services field with this technical diploma. This program, which comprises the first year of the associate's degree in Financial Services, teaches you essential skills for entry into fields such as insurance, banking, customer services, sales, and underwriting. Graduates work at credit unions, banks, insurance companies, and financial firms, or continue their studies in Financial Services. Emphasis is placed on professionalism, financial principles, sales, and business applications.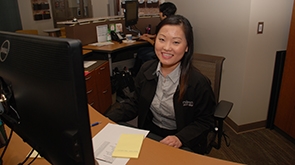 Brokerage Clerk
Financial Accountant
Insurance Underwriter
Loan Interviewers
Use effective communication skills
Apply mathematical concepts
Transfer social and natural science theories into practical applications
Demonstrate ability to think critically
Demonstrate ability to value self and work ethically with others in a diverse population
Use technology effectively
Make decisions that incorporate the importance of sustainability
Create reports.
Analyze investments.
Sell financial products and services.
College Requirements
High School Transcript or GED/HSED
Program Requirements
Western Technical College uses ACCUPLACER, a computer-based, online assessment that measures your abilities in reading, sentence skills, and arithmetic. This information will be used to place you in courses that best fit your academic goals. Based on your scores, you may need to take additional general studies course(s) along with the general studies courses required for your program.
Several options for waiving the ACCUPLACER test are available; view the waivers here.
Learn more about placement tests and how they are used at Western: Placement Testing.