Associate of Applied Science
Graduates of the Gerontology associate's degree program have the knowledge and skills needed to provide quality service to older adults and their families. Gerontology career pathways include a wide variety of service and leadership opportunities related to business and finances; housing options; entertainment and travel; health and wellness; case coordination; public policy and advocacy; and consumer service.
This is a shared program with Northeast Wisconsin Technical College (NWTC). Students can enroll in 46 credits at Western and complete the remaining 23 credits online through NWTC.
Admission to the Gerontology program is handled by NWTC. To apply to this program, please complete NWTC's application process.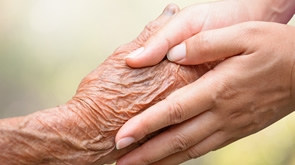 Direct Service Provider
Program Planner and Evaluator
Manager/Coordinator/Administrator
Marketing and Product Development Professional
Advocate
Educator/Trainer
Life Enrichment Provider
Environmental Designer
Financial Management/Legal Support Service Provider/Guardian
Use effective communication skills
Apply mathematical concepts
Transfer social and natural science theories into practical applications
Demonstrate ability to think critically
Demonstrate ability to value self and work ethically with others in a diverse population
Use technology effectively
Make decisions that incorporate the importance of sustainability
Provide recommendations for successful aging and optimal quality of life
Evaluate physical, social, psychological and spiritual aspects of aging
Identify and refer older adults to needed services
Exhibit behaviors and conduct that reflect safe, legal, and ethical gerontological practices
Evaluate and advocate in the area of aging public policy
Exhibit professional communication
Develop ethical and cultural awareness related to aging
Plan, develop, implement and deliver appropriate activities to meet physical, social, psychological needs of the aging population
Create a personal professional development plan
Incorporate evidence-based gerontology practices into delivery of services
Implement activities to meet the needs of the aging population
College Requirements
High School transcript or GED/HSED
Program Requirements
Western Technical College uses ACCUPLACER, a computer-based, online assessment that measures your abilities in writing/sentence skills, reading comprehension, and arithmetic. This information will be used to place you in courses that best fit your academic goals. Based on your scores, you may need to take additional general studies course(s) along with the general studies courses required for your program.
Several options for waiving the ACCUPLACER test are available; view the exemptions here.
Learn more about placement tests and how they are used at Western: Placement Testing.