LA CROSSE, Wis., May 9, 2016 – Western Technical College's Business and Industry Services division is proud to present David A. Stillman. David is co-founder and a Generation X voice of BridgeWorks, a company dedicated to speaking, writing, training, and entertaining on generational issues in the workplace and the marketplace.
Seminar Details
Tuesday, May 17, 2016
Lunda Center - Western Technical College - La Crosse Campus
Time: 7:30 a.m. – Noon (Breakfast provided)
Cost: $149 per person if registered by March 31st
$169 per person if registered on or after April 1st
What is it?
Four distinct generations are working together shoulder to shoulder, each with a unique set of attitudes, values and work styles. It used to be that older workers were bosses and younger ones took orders. Now, roles are all over the map and rules are being rewritten.
Organizations are feeling the pain of generations as they struggle to manage productivity and morale while maintaining high standards of quality and service in a challenging economy.
This program will give you the tools to convert this form of diversity from an obstacle into an opportunity.
Get a preview of what you'll see.
Register
Register now for this event by calling 608.785.9232 or emailing andersonk@westerntc.edu.
THE FIRST 50 PAID REGISTRATIONS WILL RECEIVE A COPY OF David's latest book The M-Factor: How the Millennial Generation Is Rocking the Workplace
About David
As an early Gen X voice in a business world dominated by Baby Boomers, David became one of the youngest, most outspoken, and popular keynoters to hit the national circuit. His unique blend of humor, fairness, and frankness won over audiences of all generations and made him a go-to speaker for organizations that ranged from the IRS to MTV. David's keynote speeches and workshops on bridging the generation gaps in the workplace and marketplace continue to receive rave reviews from corporations and associations nationwide.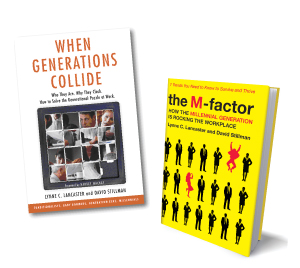 In addition to speaking, David co-authored the lively, entertaining and savvy best-seller
When Generations Collide: Who They Are. Why They Clash. How to Solve the Generational Puzzle at Work
(HarperBusiness). His latest book,
The M-Factor: How the Millennial Generation Is Rocking the Workplace
(HarperCollins) has become a business favorite. As a cultural commentator, David has appeared nationally on CNN, CNBC, and the Today show and has been featured in such prestigious publications as
TIME magazine
,
Entrepreneur
,
The New York Times
, and
USA Toda
y.
Prior to launching BridgeWorks, David worked for ABC television in New York City as an intern for PrimeTime Live. Later with CBS radio, he embarked on a round-the-world trip covering such topics as the end of apartheid in South Africa and the fall of the former Soviet Union. Upon his return to the United States, David was employed as creative director for a multimedia company where he worked with clients such as 3M, American Express, and Wells Fargo. There he concluded that communication strategies that hit the hot buttons of one generation often miss the mark with another. This resulted in the creation of BridgeWorks with business partner Lynne Lancaster.
David is a graduate of the University of Wisconsin at Madison with B.A. degrees in Communications and Sociology. He was selected as a fellow for the Michigan State University Mass Media in Britain program and studied in London with the BBC. Most recently, David received a certificate in non-profit management through the University of St. Thomas.