Technical Diploma
Nursing is a profession that demands the right combination of compassion and technical skill. As a licensed practical nurse (LPN) you will care for patients in a clinic, hospital, or other care facility under the supervision of a registered nurse. Your responsibilities will include observing the patient and documenting the treatment, carrying out physicians' orders, and planning and evaluating nursing care. General education courses complement nursing science courses to provide a well-rounded education. Highly individualized learning activities and valuable field experiences provide an opportunity to demonstrate the skills that are learned. Many of the classes are available online, through Interactive Television, and in blended formats in addition to the traditional classroom format.
This program is approved by the State of Wisconsin Board of Nursing. All practical nurses are required to take a national exam to obtain a license to practice. Compared with all programs nationwide, Western graduates have been consistently successful in passing the exam.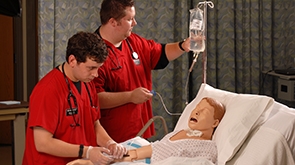 Use effective communication skills
Apply mathematical concepts
Transfer social and natural science theories into practical applications
Demonstrate ability to think critically
Demonstrate ability to value self and work ethically with others in a diverse population
Use technology effectively
Make decisions that incorporate the importance of sustainability
Implement one's role as a nurse in ways that reflect integrity, responsibility, ethical practices, and an evolving identity as a nurse committed to caring, advocacy, and quality care while adhering to evidence-based practice
Demonstrate appropriate written, verbal, and nonverbal communication in a variety of clinical contexts
Integrate knowledge of social, mathematical, and physical sciences, pharmacology, and disease processes while participating in clinical decision making
Provide patient centered care under supervision by participating in the nursing process across diverse populations and healthcare settings
Minimize risk of harm to patients, members of the healthcare team, and self through safe individual performance and participation in system effectiveness
Collaborate as an active member of the multidisciplinary health care team to provide effective patient care throughout the lifespan
Use information and technology to communicate, manage data, mitigate error, and assist with decision-making
Program Specific Requirements
Writing/English:
ACT: 19
COMPASS: 75
ACCUPLACER: 80
Reading:
ACT: 20
COMPASS: 84
ACCUPLACER: 70
Math/Pre-Algebra:
ACT: 19
COMPASS: 58
ACCUPLACER: 66
Additional Requirements:
To enroll in the Practical Nursing program, first apply for admission to the College, then read the program's Essential Functions.  You can find a link to this document below.  In addition, you must complete General Anatomy and Physiology and its prerequisites with a grade of "C" or better, complete a Wisconsin Department of Health Services-approved Nursing Assistant course, and demonstrate satisfactory performance on the Nursing TEAS V Pre-Admission Examination.  Please see the details below.
General Anatomy and Physiology Prerequisites
One year of High School or one term of Developmental or College Biology
One year of High School or one term of Developmental or College Chemistry
General Anatomy and Physiology (10806177)
Wisconsin Department of Health Services-approved Nursing Assistant Course
(Note: This requires a minimum of 120 hours of instruction and must include a clinical component.)
Nursing ATI TEAS Pre-Admission Examination
(Note: Do not take this test until you have completed the placement testing requirements for the College.)
Our Health and Public Safety programs are required to report additional information to prospective students, including certification exams, licensure, program completion rates, etc. You can find this information in the documents below:
Program Contact
Debbie Kaiser
Enrollment Services Advisor
608-785-9078
KaiserD@westerntc.edu
Stacey Nelson
Enrollment Services Advisor
608-785-9842
NelsonS@westerntc.edu