Technical Diploma
Combine your mechanical aptitude and attention to detail with computer-based design. As a machine tool operator, you will create precision-machined parts that are used in industrial applications from aerospace to consumer product manufacturing. You'll develop hands-on skills in computer aided drafting (CAD), computer aided manufacturing (CAM) software, and the machining equipment it controls. You'll be involved in every phase of part production, working from blueprints and CAD drawings, programming the equipment, machining the parts to exact specifications, and inspecting them to tolerances of 1/30th the diameter of a hair using precision instruments. Skilled machinists are in great demand for specialized tool-making operations and most types of manufacturing. Opportunities for career advancement grow with your experience.
Starting in Fall 2021, this program will be offered using a Competency-Based Education (CBE) format where learning takes place at an individualized pace. CBE measures skills and learning as you progress through the coursework by demonstrating your mastery over each specific skill. This approach often accelerates progress, allowing you to get your degree faster!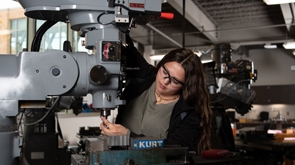 CNC Machine Operator
CNC Machinist
Manual Machinist
Injection Molding Technician
Machine Tool Operator
Tool and Die Maker
Living responsibly
Refining professionalism
Cultivating passion
Apply basic safety practices in the machine shop
Interpret industrial/engineering drawings
Apply precision measuring methods to part inspection
Perform basic machine tool equipment set-up and operation
Perform programming, set-up and operation of CNC Machine Tools
College Requirements
High School transcript or GED/HSED
Program Requirements
Western Technical College uses ACCUPLACER, a computer-based, online assessment that measures your abilities in writing/sentence skills, reading comprehension, and arithmetic. This information will be used to place you in courses that best fit your academic goals. Based on your scores, you may need to take additional general studies course(s) along with the general studies courses required for your program.
Several options for waiving the ACCUPLACER test are available; view the exemptions here.
Learn more about placement tests and how they are used at Western: Placement Testing.