Animal Science Technician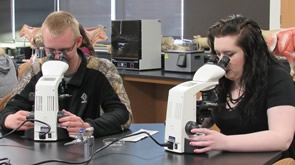 A broad overview of animal science, including reproduction and health, will prepare you for working with livestock in an animal management system. Areas covered include nutrition, ration balancing, heat detection, disease prevention, and artificial insemination. This program also explores the use of technology in the field.
Career Opportunities
Agricultural and Food Science Technicians
First-Line Supervisors/Managers of Animal Husbandry and Animal Care Workers
Program Outcomes
Living responsibly
Refining professionalism
Cultivating passion
Admission Requirements:
College Requirements
Career Pathways:
Animal Science Technician
Prior Learning:
Previous education and work experience could qualify for Credit for Prior Learning, saving you time and money. Find out more [1] about what may apply to this program.
Technical Diploma:
Animal Science Technician
Associate Degree:
Agri-Business Science Technology
Courses
The following list is not the official course list for this program. It is intended to give students an idea of what coursework will be required.
Current students should use the MyWestern [2] self-service portal when registering for class.
First Term
Agricultural Ldrshp & Career
Introductory Plant Science
Software Appl for Business
Second Term
Livestock Nutrition & Rations
Third Term
Agribusn Eqpmnt & Facilities