Robotic Welding & Fabrication Specialist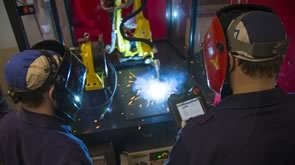 This technical diploma will prepare you to properly program and operate welding robots. Training on the latest technology will cover the basic engineering principles of programming skills to create welding processes that meet specifications for various patterns, joint types, and positions. In addition, coursework will cover material science, computer-aided design (CAD), automation, codes, inspections, testing, and quality assurance.
*Please note that the delivery method for fall courses may change as the COVID-19 situation unfolds. Our goal is to ensure that teaching and learning happens in a safe environment. We will communicate updates as quickly as possible.
Career Opportunities
Welders, Cutters, and Welder Fitters
Welders, Cutters, Solderers, and Brazers
Welding, Soldering, and Brazing Machine Setters, Operators, and Tenders
Program Outcomes
Living responsibly
Refining professionalism
Cultivating passion
Admission Requirements:
College Requirements
Courses
The following list is not the official course list for this program. It is intended to give students an idea of what coursework will be required.
Current students should use the MyWestern [1] self-service portal when registering for class.
First Term
Welding-Blueprint Reading 1
Welding-Oxy Fuel Metals Join
Welding-Oxy-Fuel Metals Cutting
Second Term
Advanced Robotic Fabrication
Applied Communication Skills
Robotic Welding Operation