Healthcare Technology Management
Associate of Applied Science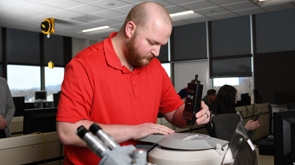 Technology is a critical part of today's healthcare environment, and the people who maintain it play an important role. With this degree, you'll bridge the distance between technology and patient care by working with medical personnel to ensure the proper, safe, and optimal use of electronic devices. You'll apply your knowledge in equipment mechanics, hydraulics, pneumatics, and networking to medical equipment including nerve stimulators, monitors, and infusion pumps, imaging systems, dialysis units, and heart-lung bypass machines.
If you have an interest in the medical field, this program can open the door to many career options. You may find yourself working in an operating room, a renal dialysis center, sleep lab, or an oncology department. Site-based learning is emphasized with clinical study and internships. The medical field is particularly rewarding if you want to use your skill in technology to help others.
*Please note that the delivery method for fall courses may change as the COVID-19 situation unfolds. Our goal is to ensure that teaching and learning happens in a safe environment. We will communicate updates as quickly as possible.
Healthcare Technology Management 2018-2019 Graduation Employment Stats
| | |
| --- | --- |
| Graduates | 14 |
| Graduates Responding | 7 |
| Employed in Related Occupation | 7 |
| Employed in Non-related Occupations | 0 |
| Seeking Employment | 0 |
| Continuing Education | 0 |
| Not in Labor Market | 0 |
Salary Data - Related Employment
| | Part Time | Full Time |
| --- | --- | --- |
| Responding | 0 | 7 |
| Average Hours Per Week | | 42 |
| Median Hourly Wage | | 28.74 |
| Hourly Wage Range | | $17.50-$30.34 |
| Median Annual Salary | | $61,314.00 |
Respondents in Related Occupations
Bmatt 1 Bio Mat Technician; Salem Health, Salem, OR
Medical Equipment Tech; Tualatin Fire & Rescue, Beaverton, OR
HTM Tech II; Mayo Clinic Health System, Mankato, MN
Career Opportunities
Biomedical Electronics Technician (BMET)
Field Service Engineer
Electronics Technician
Clinical Engineering Technician
Biomedical Field Service Engineer
Program Outcomes
Living responsibly
Refining professionalism
Cultivating passion
Manage medical equipment and systems
Identify the function and operation of various types of imaging equipment
Problem-solve electronic circuits and systems
Demonstrate a competency with computers and networks used in medical equipment
Apply principles of anatomy, physiology, and medical terminology
Demonstrate safety precautions and practices with medical equipment
Demonstrate professionalism
Admission Requirements:
College Requirements
Program Specific Requirements
Additional Requirements:
To enroll in the Healthcare Technology Management program, first apply for admission to the College, and then complete a background check.  You can find a link to this document below. 
Career Pathways:
Healthcare Technology Management
Prior Learning:
Previous education and work experience could qualify for Credit for Prior Learning, saving you time and money. Find out more [2] about what may apply to this program.
Technical Diploma:
Healthcare Electronics Technician
Associate Degree:
Healthcare Technology Management
Courses
The following list is not the official course list for this program. It is intended to give students an idea of what coursework will be required.
Current students should use the MyWestern [3] self-service portal when registering for class.
First Term
Body Structure and Function
College Technical Math 1A
Intro To Bio-Med Technology
Second Term
BioMed Codes/Stand/Procedures
IT Hardware/Software Fund
Fourth Term
Healthcare Syst & Tech Troubleshooting
On-Site BioMedical Clinical Experience 1
Fifth Term
Advanced Bio-Medical Internship
BioMed Science Applications
BioMedical Networking Applications