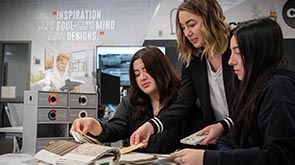 This associate degree program will help turn your creativity and style into design innovation. Gain the knowledge to employ aesthetic theory, culture, materiality, and function in the design of interior spaces. Create a strong academic portfolio and training in conceptual design development, space planning, visual communication, sustainability, regulatory compliance, and construction document preparation. Generate holistic, contextual design solutions that enhance the human experience. Become a dedicated listener, an agile thinker, and an enterprising problem solver.
Graduates can work in a variety of settings, such as residential design/architectural firms, kitchen and bath studios, furnishing manufacturers, construction companies, and sale showrooms.
Career Opportunities
Residential Interior Designer
Retail Interior Designer
Commercial Interior Designer
Kitchen and Bath Designer
Sales Consultant
Furniture Staging Specialist
Home Lighting Advisor
Healthcare Interiors Facilities Manager
Higher Education Interiors Facilities Manager
Commercial Furniture Manufacturer Sales Representative
Commercial Furniture Dealer Associate
Sales Account Manager
Product Designer
Design Project Manager
Showroom Manager
Program Outcomes
Living responsibly
Refining professionalism
Cultivating passion
Admission Requirements:
College Requirements
Software and Technology
Most of Western's classes require the use of a personal computer or laptop, standard software, internet access, and other technology-related items.
If you do not have a personal computer or laptop, or if the one you have does not meet the following criteria, resources may be available. Submit a Student Resource Request using our online form [1].
Computer/Laptop Hardware
Smartphones are not recommended for completing assignments.
Chromebooks are not recommended due to issues with installing software that is needed for classes, such as Office 365.
Web camera with microphone (usually built into newer laptops or can be purchased separately) is necessary for online participation.
Software Needs
For detailed specifications, please review Technology and Software Recommendations for Most Classes [3] on Western's IT Knowledgebase.
Campus Resources
Need Assistance?
Contact the Learning Commons

[7]

! The staff are happy to answer questions, provide individualized assistance, and direct you to other supports as needed.
Courses
The following list is not the official course list for this program. It is intended to give students an idea of what coursework will be required.
Current students should use the MyWestern [8] self-service portal when registering for class.
First Term
2D Architectural Drafting Technology
Residential Design Studio
Second Term
3D Architectural Drafting Technology
History and Theory of Design
Third Term
Design Field Experience/Co-op
Fourth Term
Construction Fundamentals
Health, Safety and Welfare for Design
Professionalism and Success
Fifth Term
Entrepreneurship for Designers
Personal Brand Management for Designers
Principles of Sustainability