IoT Integration Specialist
Associate of Applied Science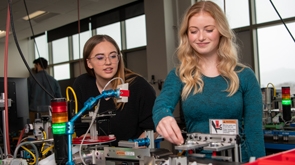 An IoT integration specialist understands the Internet of Things. They understand connected devices that run our world, from the sensor level to the cloud. As an IoT integration specialist, you will have the skills to build and integrate the connected systems of the future in many different work environments, like manufacturing, modern agriculture, health care, and civil works. If you want to marry hands-on skills with computer programming and networking, this is the program for you.

This material is based upon work supported by the National Science Foundation [1] under grant no.1801063. Any opinions, findings, and conclusions or recommendations expressed in this material are those of the author(s) and do not necessarily  reflect the views of the National Science Foundation.
*Please note that the delivery method for courses may change as the COVID-19 situation unfolds. Our goal is to ensure that teaching and learning happens in a safe environment. We will communicate updates as quickly as possible.
Career Opportunities
IT/IoT Specialist
IoT Technician
IoT Integrator
Network Deployment Technician
Integration Team Engineer
Integration Team Specialist
Field Service Technician
Technical Support Technician
Electronics Technician
Program Outcomes
Living responsibly
Refining professionalism
Cultivating passion
Admission Requirements:
College Requirements
Courses
The following list is not the official course list for this program. It is intended to give students an idea of what coursework will be required.
Current students should use the MyWestern [2] self-service portal when registering for class.
First Term
Intro to Industrial Control Systems
Intro to Industrial Internet of Things
Intro to Industrial Robotics
Second Term
Basic PLC Programming with Digital
Cisco 2: Routing Technologies
Database Concepts with SQL
Third Term
Data Utilization for Business
Introduction to Cybersecurity
Fourth Term
Automation Systems Integration
Cisco 3: Cybersecurity Operations
Safeguarding and Safety Circuits
Fifth Term
IoT Integration Career Development
IoT Integration Field Study
Machine Learning - Operations Management
Programming for Integration
Tag Based HMI/SCADA Systems