Associate of Applied Science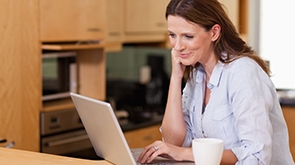 Put your critical-thinking skills to work as a business analyst. Our program teaches you how to effectively communicate with stakeholders and gather information necessary to identify business requirements and offer solutions, while recognizing opportunities for improvement. You will work closely with stakeholders to help steer the business on a pathway to success and profitability. As a graduate of this program, your skills will be in demand in many industries, including healthcare, manufacturing, insurance, and finance.
Classes are offered in a convenient online format with the working adult in mind. Whether you're looking to enter the field or expand your marketable talents, the Business Analyst program could be the key to your success.
Business Analyst 2017-2018 Graduation Employment Stats
| | |
| --- | --- |
| Graduates | 3 |
| Graduates Responding | 1 |
| Employed in Related Occupation | 1 |
| Employed in Non-related Occupations | 0 |
| Seeking Employment | 0 |
| Continuing Education | 0 |
| Not in Labor Market | 0 |
Salary Data - Related Employment
| | Part Time | Full Time |
| --- | --- | --- |
| Responding | 0 | 0 |
| Average Hours Per Week | | |
| Median Hourly Wage | | |
| Hourly Wage Range | | |
| Median Annual Salary | | |
Respondents in Related Occupations
No occupations reported.
Career Opportunities
Business Intelligence Analyst
Computer Systems Analyst
Management Analyst
Operations Research Analyst
Information Technology Project Manager
Program Outcomes
Living responsibly
Refining professionalism
Cultivating passion
Perform elicitation, validation, and analysis of requirements to meet a business need
Build relationships with stakeholders
Demonstrate leadership throughout business analysis efforts
Demonstrate professional communication in a business environment
Admission Requirements:
College Requirements
Career Pathways:
Prior Learning:
Previous education and work experience could qualify for Credit for Prior Learning, saving you time and money. Find out more [1] about what may apply to this program.
Technical Diploma:
Business Requirements Specialist
Courses
The following list is not the official course list for this program. It is intended to give students an idea of what coursework will be required.
Current students should use the MyWestern [2] self-service portal when registering for class.
First Term
Business Analyst Professionalism
Software Appl for Business
Second Term
Communication Planning and Validation
Discovery and Needs Analysis
Requirements Documentation
Third Term
Data Utilization for Business
Psychology of Human Relations
Team Building & Problem Slvng
Fourth Term
Data Integration and Prioritization
Project Management Principles
Solution Testing and Training
Fifth Term
Business Analyst Capstone
Introduction to Diversity Studies