Associate of Applied Science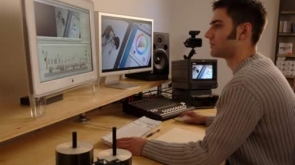 A love of video, photography, art, and computers is a great foundation for contributing to an organization as a digital media producer. Advertising agencies, marketing firms, the film industry, businesses, government, and education all need effective communicators to craft and target messages for internal and external audiences.
An important link in this system is the digital media professional, who prepares the visuals and audio used in successful media projects. They are responsible for the operation and maintenance of equipment used in creating videos, advertisements, presentations, and other forms of communications. You may be involved in preparing video, digital photography, animation, illustration, and motion graphics for various formats, including the web.
Western provides hands-on instruction in industry-leading applications and equipment. Graduates may find employment with television stations, video production houses, educational settings, industry training departments, and government agencies.
Career Opportunities
Audio Editor
Digital Media Designer
Multimedia Editor
Digital Production Assistant
Video Editor
Video Technician
Program Outcomes
Use effective communication skills
Apply mathematical concepts
Transfer social and natural science theories into practical applications
Demonstrate ability to think critically
Demonstrate ability to value self and work ethically with others in a diverse population
Use technology effectively
Make decisions that incorporate the importance of sustainability
Demonstrate proficiency in using current audio, video and interactive technical tools (equipment).
Demonstrate proficiency in current, industry standard, audio, video and graphics software programs.
Create media that displays a grasp of the Production Process (Pre-production, Production, Post-production).
Synthesize media production skills including troubleshooting technical or aesthetic issues, while demonstrating problem solving skills.
Practice professionalism and positive relationship skills with clients, peers and supervisors.
Create an entry level or better quality demonstration reel for purposes of the Portfolio Review and to assist in gaining employment in a Visual Communications related field.
Apply the principles of design and storytelling to develop media products and services.
Demonstrate proficiency in the use of media software, tools and technology.
Implement creative solutions from concept through completion.
Communicate creative rationale in formal and informal settings.
Implement project management skills to meet customer and market demands.
Apply effective and ethical business practices.
Admission Requirements:
College Requirements
Courses
The following list is not the official course list for this program. It is intended to give students an idea of what coursework will be required. There are also six elective course credits required for this program.
Current students should use the MyWestern [1] self-service portal when registering for class.
First Term
Intro to Media Production
Second Term
Foundations of Video Production
Third Term
Advanced Video Production
Compositing and Video Effects
Fourth Term
Digital Media Application
Intro to Diversity Studies
Psychology of Human Relations