Foundations of Teacher Education
Associate of Applied Science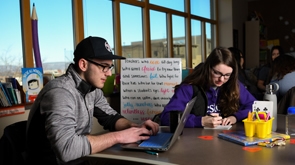 Teaching is one of the most rewarding jobs in the world. As an educational assistant (paraprofessional), you can make a difference by working directly under the supervision of a licensed classroom teacher to implement teacher-created lesson plans. You will likely work with small groups of students in the areas of reading or math as well as in one-on-one instructional settings. Some of the responsibilities you might have include tutoring in the content areas of reading, writing, math, and science; implementing teacher created plans in small group learning center activities; and offering technical support in the classroom.
Educational assistants/paraprofessionals are used in K-12 for reading, writing, and math at the elementary, middle school, and high school classroom settings. You may work in the regular classroom or in a special education classroom with students who require additional support. The program covers the needs of special education students as well as the general population.
The Foundations of Teacher Education associate's degree is an extension to the Educational Assistant technical diploma. The associate degree requires an additional practicum experience working with students to apply the skills learned. Graduates will create a professional educational portfolio.
Foundations of Teacher Education 2016-2017 Graduation Employment Stats
| | |
| --- | --- |
| Graduates | 6 |
| Graduates Responding | 5 |
| Employed in Related Occupation | 2 |
| Employed in Non-related Occupations | 0 |
| Seeking Employment | 0 |
| Continuing Education | 1 |
| Not in Labor Market | 1 |
Salary Data - Related Employment
| | Part Time | Full Time |
| --- | --- | --- |
| Responding | 1 | 1 |
| Average Hours Per Week | 8 | 35 |
| Median Hourly Wage | $11.00 | $9.00 |
| Hourly Wage Range | $11.00 - $11.00 | $9.00 - $9.00 |
| Median Annual Salary | $4,576 | $16,380 |
Respondents in Related Occupations
No occupations reported.
Career Opportunities
Instructional Assistant
Special Education Paraprofessional
Early Education Teacher
Teacher Assistant
Program Outcomes
Use effective communication skills
Apply mathematical concepts
Transfer social and natural science theories into practical applications
Demonstrate ability to think critically
Demonstrate ability to value self and work ethically with others in a diverse population
Use technology effectively
Make decisions that incorporate the importance of sustainability
Support all learning based on knowledge of subject matter
Identify developmentally appropriate child/adolescent physical, social/emotional, intellectual, and language characteristics and their developmental and environmental impact on learning
Adapt instruction to meet the diverse needs of all learners
Utilize a variety of instructional strategies, media, and technology to foster the development of critical thinking and problem solving
Use proactive classroom management techniques to promote a positive class climate, intrinsic motivation, and optimal learning
Demonstrate effective written and verbal communication in working collaboratively within the school setting and interactions with students and families
Assist in planning and implementing instructional strategies that reflect the learning cycle
Utilize informal assessment strategies to collect data for the support of student learning
Incorporate the reflective process to promote student learning and professional growth
Assume professional responsibility for ethical, moral, and legal policies and procedures
Provide for health and safety needs of students
Admission Requirements:
College Requirements
Program Specific Requirements
Additional Requirements:
To enroll in the Foundations of Teacher Education Associates Degree program, first apply for admission to the College, then read the program's Essential Functions, complete a background check, and provide proof of immunization (including a TB Test).  You can find links to these documents below.
In addition, contact the Welcome Center to make an appointment with a Health & Public Safety Enrollment Services Advisor [4] to complete your Intent to Enroll form.
Additional Information
Our Health and Public Safety programs are required to report additional information to prospective students, including certification exams, licensure, program completion rates, etc. You can find this information in the document below:
Career Pathways:
Foundations of Teacher Education
Prior Learning:
Previous education and work experience could qualify for Credit for Prior Learning, saving you time and money. Find out more [6] about what may apply to this program.
Associate Degree:
Foundations of Teacher Education
Courses
The following list is not the official course list for this program. It is intended to give students an idea of what coursework will be required.
Current students should use the MyWestern [7] self-service portal when registering for class.
First Term
EDU: Intro to Educ Practices
EDU: Teamwork in School Setting
EDU: Techniques/Readg/Lang Art
Second Term
EDU: Child & Adolescent Devel
EDU: Guiding & Mnging Behavior
EDU: Technology/Media Rsrces
Intro to Diversity Studies
Support Students w/ Special Health Needs
Third Term
EDU: Overview of Special Ed
EDU: Positive Classrm Mgmt Tech
EDU: Support Students w Disab
EDU: Techniques for Science
Fourth Term
EDU: Adv Readg/Language Arts