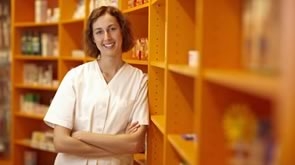 If you're ill or injured, you have access to an enormous variety of therapeutic medications, and you trust your pharmacy to correctly interpret and fill your prescriptions. Pharmacy technicians contribute to our safety by assisting pharmacists in a variety of technical tasks. If you're attentive to detail, organized, a good communicator, and like math, science, and working with people, a career as a pharmacy technician may be your prescription for success.
The Pharmacy Tech program is a shared program with Lakeshore Technical College. You will take some classes at Western and some online or through distance learning from Lakeshore. This program is financial aid eligible at Lakeshore Technical College. Contact the Welcome Center to make an appointment with a Career Coach [1].
Lakeshore Technical College Pharmacy Technician Program Page [2]
*Please note that the delivery method for fall courses may change as the COVID-19 situation unfolds. Our goal is to ensure that teaching and learning happens in a safe environment. We will communicate updates as quickly as possible.
Career Opportunities
Pharmacy Technician
Pharmacy Aide
Program Outcomes
Living responsibly
Refining professionalism
Cultivating passion
Package and label drugs for prescription dispensing
Prepare and deliver unit dose to the nursing services of hospitals or nursing homes
Prepare parenteral admixtures under aseptic and sterile conditions
Receive and inventory drug shipments
Maintain records, including patient profiles
Facilitate communications for third-party reimbursement
Compound solutions, ointments, lotions, suppositories, and other medications
Comprehend and utilize medical and drug terminology common to the pharmaceutical environment
Practice ethical standards and recognize legal implications of your actions as they relate to yourself, the pharmacist, and the pharmacy
Admission Requirements:
College Requirements
Program Specific Requirements
Additional Requirements:
The Pharmacy Technician program is a joint program with Lakeshore Technical College [2].  Lakeshore has the following requirements in order to qualify for admittance to the Pharmacy Technician program:
Pharmacy Technician Essential Functions Contract
Pharmacy Technician Background Check
Pharmacy Technician Immunization form
Physical Examination
Telephone interview with a Lakeshore Technical College Career Coach
Please contact the Student Futures Office by phone at 920-693-1162 or by email at CareerCoach@gotoltc.edu

[3]

to arrange for an appointment.
Accreditation
The Pharmacy Technician program conducted by Lakeshore Technical College, Cleveland, WI is accredited by the American Society of Health-System Pharmacists.