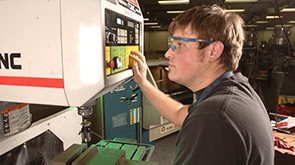 Not Financial Aid Eligible
This program teaches you how to operate Computer Numerical Control (CNC) milling and turning machines and perform minor setups. Employers are looking for CNC operators who have math, print reading, measurement, and inspection skills. This certificate provides these important skills, and the credits apply directly toward two of Western's machining technical diplomas. Get an entry-level operator job and continue your education for further career opportunities.
*Please note that the delivery method for fall courses may change as the COVID-19 situation unfolds. Our goal is to ensure that teaching and learning happens in a safe environment. We will communicate updates as quickly as possible.
Program Outcomes
Apply basic safety practices in the machine shop
Perform set-up and operation of basic manually operated metal working machines
Interpret industrial/engineering drawings
Apply precision measuring methods to part production and inspection
Perform programming, set-up and operation of CNC machine tools
Make machine and/or tooling selection decisions according to accepted machine tool practices
Admission Requirements:
College Requirements
Career Pathways:
Prior Learning:
Previous education and work experience could qualify for Credit for Prior Learning, saving you time and money. Find out more [1] about what may apply to this program.
Technical Diploma:
Manufacturing Systems Maintenance Technician
Precision Machining & Programming
Basic Machining
Courses
The following list is not the official course list for this program. It is intended to give students an idea of what coursework will be required.
Current students should use the MyWestern [2] self-service portal when registering for class.
First Term
CNC Production Lathe-Operation
CNC Production Mill-Operation
Machining: Intro to Machining