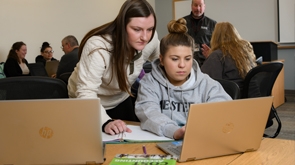 Accounting may be your field if you enjoy the challenge of keeping records and tracking finances. As an accounting assistant, you may have full responsibility for bookkeeping functions in a small business or have a single task in a large accounting department. Hands-on computer training and classroom instruction provide a solid background in accounting concepts and procedures.
All courses in this technical diploma can be applied to Western's Accounting associate's degree if you choose to continue your education. Classes are offered in a traditional face-to-face environment, online format, through interactive distance learning, or a blend of the formats.
*Please note that the delivery method for fall courses may change as the COVID-19 situation unfolds. Our goal is to ensure that teaching and learning happens in a safe environment. We will communicate updates as quickly as possible.
Accounting Assistant 2018-2019 Graduation Employment Stats
| | |
| --- | --- |
| Graduates | 6 |
| Graduates Responding | 5 |
| Employed in Related Occupation | 0 |
| Employed in Non-related Occupations | 0 |
| Seeking Employment | 0 |
| Continuing Education | 5 |
| Not in Labor Market | 5 |
Salary Data - Related Employment
| | Part Time | Full Time |
| --- | --- | --- |
| Responding | 0 | 0 |
| Average Hours Per Week | | |
| Median Hourly Wage | | |
| Hourly Wage Range | | |
| Median Annual Salary | | |
Respondents in Related Occupations
No occupations reported.
Career Opportunities
Accounting Assistant
Bookkeeper
Account Clerk
Payroll Clerk
Teller
Accounting Aide
Accounts Payable/Receivable Clerk
Program Outcomes
Living responsibly
Refining professionalism
Cultivating passion
Process financial transactions throughout the accounting cycle
Analyze basic financial and business information to support planning and decision-making
Perform payroll preparation, reporting, and analysis tasks
Admission Requirements:
College Requirements
Career Pathways:
Prior Learning:
Previous education and work experience could qualify for Credit for Prior Learning, saving you time and money. Find out more [1] about what may apply to this program.
Courses
The following list is not the official course list for this program. It is intended to give students an idea of what coursework will be required.
Current students should use the MyWestern [2] self-service portal when registering for class.
First Term
Software Appl for Business
Second Term
Case Analysis & Reporting