Associate of Applied Science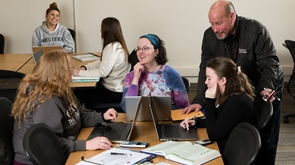 Accountants are in demand in every business and industry. It may be a good fit for you if you are detail-oriented, like to have things organized, and have strong problem-solving skills.
Businesses rely on their accounting departments to provide a clear, concise, and accurate financial picture and use the information accountants provide to make crucial decisions. Accounting relates to all aspects of an operation, so the ability to work as part of a team is essential. Payroll, accounts payable and receivable, budgets, and financial reports are some of the responsibilities of an accountant.
The associate's degree program is designed for both the person looking for an entry-level position in accounting and the one who already has accounting responsibilities and would like to learn more. Instruction takes place in a traditional face-to-face environment, an online format, through interactive distance learning, or a blend of the formats. The Accounting After Hours program combines evening classroom instruction and online learning. Students learn accounting software, spreadsheet applications, and relevant technology.
Accounting 2016-2017 Graduation Employment Stats
| | |
| --- | --- |
| Graduates | 32 |
| Graduates Responding | 20 |
| Employed in Related Occupation | 12 |
| Employed in Non-related Occupations | 1 |
| Seeking Employment | 1 |
| Continuing Education | 1 |
| Not in Labor Market | 5 |
Salary Data - Related Employment
| | Part Time | Full Time |
| --- | --- | --- |
| Responding | 3 | 7 |
| Average Hours Per Week | 25 | 41 |
| Median Hourly Wage | $14.00 | $15.95 |
| Hourly Wage Range | $10.50 - $15.25 | $14.00 - $20.00 |
| Median Annual Salary | $20,204 | $33,277 |
Respondents in Related Occupations
Accountant 1; Ho-Chunk Nation, Black River Falls, WI
Accounting Service Specialist; John Block and Company, Viroqua, WI
Accounts Payable; River States Truck and Trailer, La Crosse, WI
Bookkeeper; MBE CPAs, Mauston, WI
Bookkeeper; Smith Accounting, Black River Falls, WI
Finance Coordinator; Catholic Charities of La Crosse, La Crosse, WI
Financial Regulations & Compliance Accountant; Fastenal, Winona, MN
Office Manager; Strupp Trucking and Excavating, Onalaska, WI
Office Specialist; Northwest Hardwoods, Onalaska, WI
Tax Accountant; Evenstad Tax Service, Westby, WI
Career Opportunities
Accountant
Accounting Manager
Bookkeeper
Payroll Clerk/Specialist
Accounts Payable/Receivable Clerk
Cost Accountant
Tax Accountant
Program Outcomes
Use effective communication skills
Apply mathematical concepts
Transfer social and natural science theories into practical applications
Demonstrate ability to think critically
Demonstrate ability to value self and work ethically with others in a diverse population
Use technology effectively
Make decisions that incorporate the importance of sustainability
Process financial transactions throughout the accounting cycle
Analyze financial and business information to support planning and decision making
Perform payroll preparation, reporting, and analysis tasks
Perform cost accounting preparation, reporting, and analysis tasks
Perform organization and/or individual tax accounting preparation, reporting, and analysis tasks
Identify internal controls to reduce risk
Admission Requirements:
College Requirements
Career Pathways:
Prior Learning:
Previous education and work experience could qualify for Credit for Prior Learning, saving you time and money. Find out more [1] about what may apply to this program.
Courses
The following list is not the official course list for this program. It is intended to give students an idea of what coursework will be required.
Current students should use the MyWestern [2] self-service portal when registering for class.
First Term
Orientation to Accounting
Software Appl for Business
Second Term
Case Analysis & Reporting
Fourth Term
Capstone Accounting Project
Computerized Accting Syst
Information Systems-Accounting
Professional Development in Accounting
Psychology of Human Relations