Associate of Applied Science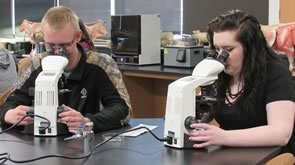 Agriculture is changing and it's changing fast. Farmers today have to compete in a global economy and keep pace with some of the most sophisticated technology available. For the person with an interest in crop and livestock production, as well as a talent for the technical side of the business, this field needs you!
Through the Agri-Business and Science Technology program, you'll develop valuable skills to help farmers and farm managers increase profitability and efficiency or help you in the management of your own farm operation. Feed and fertilizer plants, grain elevator merchants, and farm supply businesses are all looking for people with knowledge of agribusiness. Opportunities also exist in the areas of conservation, consulting, and farm management. This degree program includes an internship in agribusiness.
Agri-Business Science 2016-2017 Graduation Employment Stats
| | |
| --- | --- |
| Graduates | 11 |
| Graduates Responding | 4 |
| Employed in Related Occupation | 3 |
| Employed in Non-related Occupations | 1 |
| Seeking Employment | 0 |
| Continuing Education | 0 |
| Not in Labor Market | 0 |
Salary Data - Related Employment
| | Part Time | Full Time |
| --- | --- | --- |
| Responding | 0 | 1 |
| Average Hours Per Week | | 45 |
| Median Hourly Wage | | $14.00 |
| Hourly Wage Range | | $14.00 - $14.00 |
| Median Annual Salary | | $32,757 |
Respondents in Related Occupations
No occupations reported.
Career Opportunities
Agriculture Technician
Agronomy Technician
Feed Mill Technician
Herdsperson
Dairy Production Technician
Agronomy Sales Specialist
Crop Scout
Program Outcomes
Use effective communication skills
Apply mathematical concepts
Transfer social and natural science theories into practical applications
Demonstrate ability to think critically
Demonstrate ability to value self and work ethically with others in a diverse population
Use technology effectively
Make decisions that incorporate the importance of sustainability
Create a Crop Management Plan
Develop an Agribusiness management plan
Apply economic and marketing strategies to Agribusiness Industry
Apply relevant technologies
Create a livestock management plan
Investigate opportunities in Agribusiness
Interact as a professional in Agribusiness
Admission Requirements:
College Requirements
Courses
The following list is not the official course list for this program. It is intended to give students an idea of what coursework will be required.
Current students should use the MyWestern [1] self-service portal when registering for class.
First Term
Agricultural Ldrshp & Career
Introductory Plant Science
Software Appl for Business
Second Term
Livestock Nutrition & Rations
Third Term
Agribusn Eqpmnt & Facilities
Fourth Term
Psychology of Human Relations
Fifth Term
Agribusiness Sales Management