Automotive Maintenance & Light Repair Technician - Level 1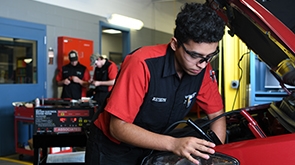 Not Financial Aid Eligible
You can be ready for an entry-level position at a repair shop, dealership, or service station after earning this technical diploma. It covers eight areas of automotive maintenance with an emphasis on learning by doing. The program provides training in diagnosis, maintenance, and repair of heating and cooling systems, shop safety, wheel balancing, vehicle safety, and shop management. You will also learn techniques to develop good study habits and improve personal effectiveness. Build upon these foundational skills by continuing with Western's Automotive Service Technician - Level 2 technical diploma.
Classes are held at Western's state-of-the-art Automotive Facility, located in La Crosse's industrial park, 2721 Larson Street. Check our interactive map [1] for specific location information.
Career Opportunities
Automotive Technician
Automotive Mechanic
Quick Lube Technician
Parts Specialist
Program Outcomes
Use effective communication skills
Apply mathematical concepts
Transfer social and natural science theories into practical applications
Demonstrate ability to think critically
Demonstrate ability to value self and work ethically with others in a diverse population
Use technology effectively
Make decisions that incorporate the importance of sustainability
Admission Requirements:
College Requirements
Career Pathways:
Automotive Maintenance & Light Repair Technician - Level 1
Prior Learning:
Previous education and work experience could qualify for Credit for Prior Learning, saving you time and money. Find out more [2] about what may apply to this program.
Technical Diploma:
Automotive Technician
Automotive Maintenance & Light Repair Technician - Level 1
Automotive Service Technician - Level 2
Courses
The following list is not the official course list for this program. It is intended to give students an idea of what coursework will be required.
Current students should use the MyWestern [3] self-service portal when registering for class.
First Term
Applied Communication Skills
Auto College Success & Study