Associate of Science - Liberal Arts
Associate of Science-Liberal Arts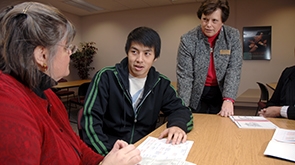 If you're considering a four-year college or university, consider this: earning an Associate of Science-Liberal Arts degree at Western could save you 40 percent over the cost of a four-year university in Wisconsin, and it's one-sixth the cost of the average private college. You could save thousands of dollars, take on much less debt, and graduate with the same degree! If you have a particular college or university in mind, you'll want to check out how your credits will transfer before enrolling.
The Associate of Science-Liberal Arts degree program provides a solid foundation in what is typically known as "general education." If you are undecided about a major, this degree program will expose you to a wide variety of courses and help you develop insight into which career areas you'd like to explore further. The curriculum is comparable to the coursework offered in the first or second year of a four-year college program and includes English, math, science, history, social sciences, the humanities, and wellness.
Program Outcomes
Use effective communication skills
Apply mathematical concepts
Transfer social and natural science theories into practical applications
Demonstrate ability to think critically
Demonstrate ability to value self and work ethically with others in a diverse population
Use technology effectively
Make decisions that incorporate the importance of sustainability
Admission Requirements:
College Requirements
Courses
The following list is not the official course list for this program. It is intended to give students an idea of what coursework will be required. For a full list, use the MyWestern Degree Requirements Search Page [2].
Current students should use the MyWestern [3] self-service portal when registering for class.