Mechanically inclined? Like solving problems? If so, you might find a career as an automotive technician challenging as well as rewarding. With a focus on hands-on experiences in this technical diploma program, you'll learn to diagnose and repair problems in engines, drive trains, brakes, electrical systems, steering, suspension, transmission systems as well as hybrid and alternative fuel systems. Coursework covers the basics of operating an automotive repair business. You'll learn skills that will help you communicate with customers and gain valuable experience by making repairs on student and faculty vehicles in an actual shop.
The program prepares you for Automotive Service Excellence (ASE) certification. Graduates find jobs in car dealerships, independent repair shops, and other related areas.
Classes are held at Western's state-of-the-art Automotive Facility, located in La Crosse's industrial park, 2721 Larson Street. Check our interactive map [1] for specific location information.
Program instructors accept vehicle work from the public that fits with the topic they are covering in class. To apply for this service, complete the Automotive Repair Request Form [2].
Automotive Technician 2015-2016 Graduation Employment Stats
| | |
| --- | --- |
| Graduates | 17 |
| Graduates Responding | 17 |
| Employed in Related Occupation | 7 |
| Employed in Non-related Occupations | 1 |
| Seeking Employment | 0 |
| Continuing Education | 0 |
| Not in Labor Market | 9 |
Salary Data - Related Employment
| | Part Time | Full Time |
| --- | --- | --- |
| Responding | 0 | 7 |
| Average Hours Per Week | | 47 |
| Median Hourly Wage | | $12.00 |
| Hourly Wage Range | | $12.00 - $15.00 |
| Median Annual Salary | | $32,175.00 |
Respondents in Related Occupations
Automotive Technician; Dahl Ford, Onalaska, WI
Automotive Technician; KDH Auto Repair, Prairie Du Sac, WI
Automotive Technician; Sleepy Hollow Chrysler, Viroqua, WI
Quick Service Technician; Toyota of La Crosse, La Crosse, WI
Service Technician; Brenengen Chevrolet, Onalaska, WI
Career Opportunities
Automotive Service Technician
Automotive Mechanic
Fleet Maintenance Mechanic
Service Manager
ASE - Automotive Specialist
Certified Master Technician
Program Outcomes
Use effective communication skills
Apply mathematical concepts
Transfer social and natural science theories into practical applications
Demonstrate ability to think critically
Demonstrate ability to value self and work ethically with others in a diverse population
Use technology effectively
Make decisions that incorporate the importance of sustainability
Use appropriate tools and equipment common to the trade.
Demonstrate safe service and repair practices.
Identify automotive system components.
Analyze system components for repair or replacement.
Perform preventative maintenance.
Apply principles of systems operations.
Perform a diagnostic strategy to determine a system malfunction.
Display professionalism in the workplace including punctuality, ethical behavior, reliability and commitment to customer satisfaction.
Explain environmental and legal constraints relating to automobile repair practices.
Apply the use of Electronic Service information systems and/or service manuals.
Admission Requirements:
College Requirements
Accreditation
The Automotive Technician program is accredited by the National Automotive Technicians Education Foundation (NATEF [3]).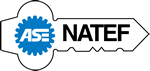 [4]
Career Pathways:
Prior Learning:
Previous education and work experience could qualify for Credit for Prior Learning, saving you time and money. Find out more [5] about what may apply to this program.
Technical Diploma:
Automotive Technician
Automotive Maintenance & Light Repair Tech-Level 1
Automotive Service Technician-Level 2
Courses
The following list is not the official course list for this program. It is intended to give students an idea of what coursework will be required.
Current students should use the MyWestern [6] self-service portal when registering for class.
First Term
Applied Communication Skills
Auto College Success & Study
Second Term
Applied Math - Transportation
Third Term
Automotive Climate Control
Intro to Hybrid & Alt Fuel Veh
Fourth Term
Auto Occup & Bus Operations
Chassis Electrical & Elect Sys
Fifth Term
Automotive Trade Simulation