Associate of Applied Science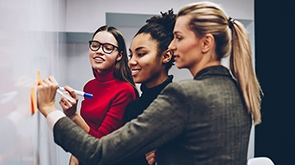 A number of options will be open to you with a Business Management degree. Our program provides a broad background in all aspects of business management, including business management theory, finance and accounting, human resources, software applications, marketing, e-commerce, and business law.
Your depth of knowledge will be demonstrated with a capstone project, which is reviewed by local business professionals. Plus, you'll develop a portfolio that will help pave the way to a professional career. The Business Management Program can be taken in a format that combines classroom and online learning or entirely online.
Upon graduation, the world of entry-level management positions will be open to you or, if you wish to open your own business, continue your education with our embedded Entrepreneurship certificate.
This program is offered fully online, blended online and face-to-face, via Interactive Distance Learning (IDL) at our Regional Locations, or in a hybrid format that combines online learning with face-to-face classes held one Saturday per month.
Business Management 2016-2017 Graduation Employment Stats
| | |
| --- | --- |
| Graduates | 32 |
| Graduates Responding | 14 |
| Employed in Related Occupation | 5 |
| Employed in Non-related Occupations | 2 |
| Seeking Employment | 1 |
| Continuing Education | 2 |
| Not in Labor Market | 4 |
Salary Data - Related Employment
| | Part Time | Full Time |
| --- | --- | --- |
| Responding | 0 | 4 |
| Average Hours Per Week | | 40 |
| Median Hourly Wage | | $14.43 |
| Hourly Wage Range | | $10.58 - $19.00 |
| Median Annual Salary | | $28,136 |
Respondents in Related Occupations
Manager; Anytime Fitness, Onalaska, WI
Records Management Specialist II; Logistics Health Inc., La Crosse, WI
Registration Representative; Mayo Clinic Health System, La Crosse, WI
Career Opportunities
Business Development Specialist
Business Associate/Analyst
Human Resource Assistant
Business Support Specialist
Economic Support Specialist
Employment Specialist
HR Generalist
Program Outcomes
Use effective communication skills
Apply mathematical concepts
Transfer social and natural science theories into practical applications
Demonstrate ability to think critically
Demonstrate ability to value self and work ethically with others in a diverse population
Use technology effectively
Make decisions that incorporate the importance of sustainability
Admission Requirements:
College Requirements
Career Pathways:
Prior Learning:
Previous education and work experience could qualify for Credit for Prior Learning, saving you time and money. Find out more [1] about what may apply to this program.
Courses
The following list is not the official course list for this program. It is intended to give students an idea of what coursework will be required.
Current students should use the MyWestern [2] self-service portal when registering for class.
First Term
Entrepreneurship Exploration and Mindset
Software Appl for Business
Second Term
Customer Growth Strategies
Fourth Term
Entrepreneurship Business Canvas
Fifth Term
Business Management Capstone
Professional Profile Dvpt