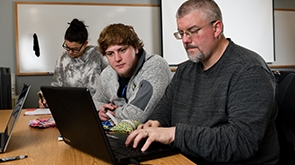 Not Financial Aid Eligible
A background in accounting is highly valued by employers. You can enhance your skill set with a certificate in Computerized Accounting. Included is a basic overview of Generally Accepted Accounting Principles (GAAP) and learning to use accounting software, Microsoft® Word®, and Excel® programs. This certificate allows you to learn skills in your current employment or apply the credits toward the Accounting Assistant technical diploma or Accounting associate's degree programs for more earning potential. Classes are offered in a traditional setting, online, and via Interactive Television for some locations.
*Please note that the delivery method for fall courses may change as the COVID-19 situation unfolds. Our goal is to ensure that teaching and learning happens in a safe environment. We will communicate updates as quickly as possible.
Career Opportunities
Office/Account Clerk
Accounting Assistant
Bookkeeper
Data Review Clerk
Admission Requirements:
College Requirements
Courses
The following list is not the official course list for this program. It is intended to give students an idea of what coursework will be required.
Current students should use the MyWestern [1] self-service portal when registering for class.
First Term
Software Appl for Business
Second Term
Computerized Accting Syst