Computer Aided Design (CAD) Technician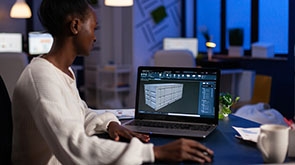 You can have a hand in designing products with your education in Computer Aided Design (CAD). CAD technicians work closely with engineers as they prepare and revise technical drawings and documentation used to build products for a variety of industries.
The course includes instruction in 2D and 3D CAD software, Computer Aided Manufacturing (CAM) software, and other technical tools used in the field. You might find this a rewarding field if you are strong in algebra and have an interest in manufacturing processes and engineering materials. Also important are good communication skills and an eye for details. Hands-on experiences complement classroom learning.
*Please note that the delivery method for fall courses may change as the COVID-19 situation unfolds. Our goal is to ensure that teaching and learning happens in a safe environment. We will communicate updates as quickly as possible.
Career Opportunities
CAD Drafter
AutoCAD Operator/Drafter/Designer
CAD Technician
Mechanical Drafter
CAD Design
Detailer
Structural Drafter
Program Outcomes
Living responsibly
Refining professionalism
Cultivating passion
Prepare detail and assembly drawings for documentation of mechanical components and products
Create CAD geometry, parts and assemblies
Admission Requirements:
College Requirements
Courses
The following list is not the official course list for this program. It is intended to give students an idea of what coursework will be required.
Current students should use the MyWestern [1] self-service portal when registering for class.
First Term
Geometric Dim & Tolerance
Sketching & AutoCAD Level 1
Sketching & AutoCAD Level 2
Second Term
Fund Of Elecs&Fabrication
Mfg Processes/Machining CAM