Associate of Applied Science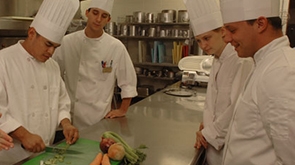 If you're a people person and like a fast-paced atmosphere, consider a culinary career. Opportunities abound in restaurants, healthcare facilities, institutions, and other areas where food is prepared and served. Our Culinary Management program prepares you for supervisory and management positions in the field by introducing you to the many types of operations within the food service industry and engaging you in performance-based instruction.
Culinary management students are taught how to train and supervise employees effectively and manage a food service operation efficiently.
In addition to obtaining general knowledge about the industry, students gain skills in critical thinking, computer use, human relations, and organization through classroom instruction, seminars, and on-the-job experiences. Students are given the opportunity to graduate with the nationally recognized ServSafe sanitation certification as well as learning the Hazard Analysis Critical Control Point (HACCP) food safety system.
*HACCP was developed by NASA
Culinary Management 2017-2018 Graduation Employment Stats
| | |
| --- | --- |
| Graduates | 1 |
| Graduates Responding | 0 |
| Employed in Related Occupation | 0 |
| Employed in Non-related Occupations | 0 |
| Seeking Employment | 0 |
| Continuing Education | 0 |
| Not in Labor Market | 0 |
Salary Data - Related Employment
| | Part Time | Full Time |
| --- | --- | --- |
| Responding | 0 | 0 |
| Average Hours Per Week | | |
| Median Hourly Wage | | |
| Hourly Wage Range | | |
| Median Annual Salary | | |
Respondents in Related Occupations
No occupations reported.
Career Opportunities
Dietary Manager
Food and Beverage Manager
Dining Room Manager
Catering Manager
Bakery and Deli Manager
School Food Service Manager
General Manager (GM)
Program Outcomes
Living responsibly
Refining professionalism
Cultivating passion
Apply principles of safety and sanitation in food service operations
Apply principles of nutrition
Demonstrate culinary skills
Manage food service operations
Plan menus
Analyze food service financial information
Relate food service operations to sustainability
Admission Requirements:
College Requirements
Career Pathways:
Prior Learning:
Previous education and work experience could qualify for Credit for Prior Learning, saving you time and money. Find out more [1] about what may apply to this program.
Certificates:
Food Preparation Assistant
Food Industry Aide
Courses
The following list is not the official course list for this program. It is intended to give students an idea of what coursework will be required.
Current students should use the MyWestern [2] self-service portal when registering for class.
First Term
Breakfast & Lunch Cookery
Intro To Food Service Industry
Vegetables, Starches & Grains
Second Term
American & International Cuisine
Food Purchasing & Cost Control
Third Term
Culinary Occupational Experience
Intro to Diversity Studies
Fourth Term
Sustainable Food Communities
Work Ethics for Food Service
Work Systems Applications
Fifth Term
Food Service Facility Design
Hospitality Laws & Trends