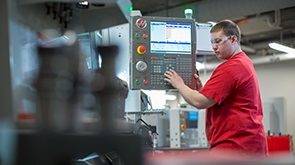 Not Financial Aid Eligible
You can be a valuable part of the manufacturing process as a Computer Numerical Control (CNC) programmer—the most technical of the CNC certificate programs. As a programmer, you write the programs that are used to machine parts in CNC lathes and mills. You'll learn to program in ISO/EIA "G&M" code, proof the programs, set up the machines, and run the programs. To succeed, you'll need to have an excellent grasp of technology and math, have the ability to think critically, and be an effective communicator. Instruction takes place in our machine shop and students also have assignments to complete outside of class.
*Please note that the delivery method for fall courses may change as the COVID-19 situation unfolds. Our goal is to ensure that teaching and learning happens in a safe environment. We will communicate updates as quickly as possible.
Career Opportunities
CNC Machine Operator
CNC Machinist
Fabricator
Admission Requirements:
College Requirements
Courses
The following list is not the official course list for this program. It is intended to give students an idea of what coursework will be required.
Current students should use the MyWestern [1] self-service portal when registering for class.
First Term
Programming/CAM for CNC Milling
Programming/CAM for CNC Turning