Central Service Technician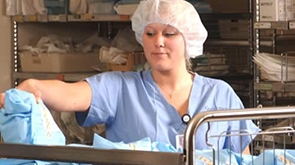 Not Financial Aid Eligible
A central service technician is responsible for the instruments and medical equipment used in surgery, obstetrics, and other patient care areas. They play a crucial role in preventing the spread of infection. If you are interested in a healthcare career, this area offers many opportunities. As a central service tech, you will clean, sterilize, and assemble medical supplies, instruments, and equipment, and also be responsible for maintaining inventory. Once you complete this program, you will be eligible to take a national certification test.
Classes are offered in a traditional and online blended format.
*Please note that the delivery method for fall courses may change as the COVID-19 situation unfolds. Our goal is to ensure that teaching and learning happens in a safe environment. We will communicate updates as quickly as possible.
Central Service Technician 2018-2019 Graduation Employment Stats
| | |
| --- | --- |
| Graduates | 3 |
| Graduates Responding | 3 |
| Employed in Related Occupation | 0 |
| Employed in Non-related Occupations | 1 |
| Seeking Employment | 0 |
| Continuing Education | 2 |
| Not in Labor Market | 2 |
Salary Data - Related Employment
| | Part Time | Full Time |
| --- | --- | --- |
| Responding | 0 | 0 |
| Average Hours Per Week | | |
| Median Hourly Wage | | |
| Hourly Wage Range | | |
| Median Annual Salary | | |
Respondents in Related Occupations
No occupations reported.
Career Opportunities
Central Service Technician
Hospital Service Representative
Central Processing/Reprocessing Technician
Sterile Processing Technician
Program Outcomes
Living responsibly
Refining professionalism
Cultivating passion
Apply principles of infection control in the role of the Central Service Technician
Decontaminate instruments and equipment
Prepare instruments, equipment, and supplies
Apply sterilization techniques
Perform inventory control and distribution
Function as an ethical, legal, and professional member of the healthcare team
Admission Requirements:
College Requirements
Program Specific Requirements
Additional Requirements:
To enroll in the Central Service Technician program, first apply for admission to the College, then read the program's Essential Functions and complete a background check. The last step for admission to the program will be to complete an Intent to Enroll form. You can find links to these documents below.
Contact the Welcome Center to make an appointment with a Career Coach

[3]

 to complete your Intent to Enroll form.
Courses
The following list is not the official course list for this program. It is intended to give students an idea of what coursework will be required.
Current students should use the MyWestern [4] self-service portal when registering for class.
First Term
Central Service Clin Practices
Central Service Fundamentals