Customer Service Representative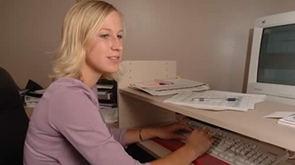 Not Financial Aid Eligible
When you have solid customer service skills, your value to prospective employers increases. Our Customer Service Representative Pathway Certificate is a great starting point if you're planning a career that puts you in front of the public.
Earned in just one term, this certificate tells prospective employers that you know how to work with people, have good computer skills, and understand the sales process.
The pathway represents a laddered approach to career preparation. Graduates can enter the workforce directly, or use the certificate as the first rung of the ladder that can lead to a Sales Representative technical diploma or Sales Management associate's degree.
*Please note that the delivery method for fall courses may change as the COVID-19 situation unfolds. Our goal is to ensure that teaching and learning happens in a safe environment. We will communicate updates as quickly as possible.
Career Opportunities
Customer Service Clerk
Sales Associate
Merchandiser
Customer Sales & Service Representative
Inside Sales
Sales Professional
Admission Requirements:
College Requirements
Career Pathways:
Customer Service Representative
Prior Learning:
Previous education and work experience could qualify for Credit for Prior Learning, saving you time and money. Find out more [1] about what may apply to this program.
Certificates:
Customer Service Representative
Sales Fundamentals
Courses
The following list is not the official course list for this program. It is intended to give students an idea of what coursework will be required.
Current students should use the MyWestern [2] self-service portal when registering for class.
First Term
Professionalism and Success