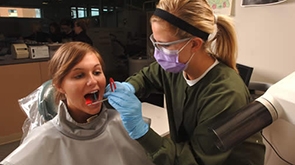 Take on an important role in the healthcare field by becoming a dental assistant. You'll work closely with patients as you guide them toward good oral health practices. In addition to assisting the dentist as he or she examines and treats patients, you may also have opportunities to work in a dental lab, take x-rays, schedule appointments, and/or manage the office. Our technical diploma curriculum prepares you to enter a private practice for a dentist or group of dentists, or to work with national, state, or local agencies that provide dental services. Chairside skills, dental anatomy, dental radiography, oral hygiene, OSHA standards, and communication skills are all included in the program.
Graduates may become certified by completing an examination by the Dental Assisting National Board.
Program-specific courses are held in the Health Science Center, a shared facility located a few blocks from the La Crosse main campus. Check our maps page [1] for specific location information.
*Please note that the delivery method for fall courses may change as the COVID-19 situation unfolds. Our goal is to ensure that teaching and learning happens in a safe environment. We will communicate updates as quickly as possible.
Dental Assistant 2017-2018 Graduation Employment Stats
| | |
| --- | --- |
| Graduates | 13 |
| Graduates Responding | 6 |
| Employed in Related Occupation | 5 |
| Employed in Non-related Occupations | 0 |
| Seeking Employment | 0 |
| Continuing Education | 0 |
| Not in Labor Market | 0 |
Salary Data - Related Employment
| | Part Time | Full Time |
| --- | --- | --- |
| Responding | 0 | 0 |
| Average Hours Per Week | | |
| Median Hourly Wage | | |
| Hourly Wage Range | | |
| Median Annual Salary | | |
Respondents in Related Occupations
No occupations reported.
Career Opportunities
Dental Assistant
Dental Office Manager
Chairside Dental Assistant
Dental/Ortho Assistant
Dental Review Coordinator
Program Outcomes
Living responsibly
Refining professionalism
Cultivating passion
Perform a variety of advanced supportive dental procedures
Manage infection and hazard control
Produce diagnostic intraoral and extraoral radiographs on a variety of patients
Perform advanced dental laboratory procedures
Demonstrate professional behaviors, ethics, and appearance
Perform dental office business procedures
Courses
The following list is not the official course list for this program. It is intended to give students an idea of what coursework will be required.
Current students should use the MyWestern [8] self-service portal when registering for class.
Second Term
Dental Assistant Clinical
Third Term
Dental Assistant Clinical-Adv
Dental Chairside Advanced
Dental Hygiene Ethics & Profes
Dental Laboratory Procedures
Dental Radiography - Advanced