Diesel & Heavy Equipment Technician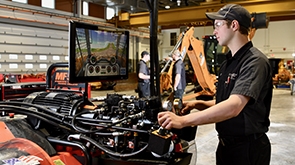 As a diesel and heavy equipment technician, you'll help keep business and industry moving by diagnosing and repairing diesel engines, heavy trucks, and heavy equipment. Our hands-on program covers the power trains, electrical/electronic systems, chassis systems, brakes, and hydraulics of this equipment. Students learn the latest technology used in the industry. Our interdisciplinary approach draws from welding and general studies to provide a solid background for entry into the field through applied, general, and specialized training. Most students compete the course in 21 months. Graduates have excellent career opportunities in a secure and rewarding field.
Classes are held at Western's state-of-the-art Truck and Heavy Equipment Facility, located in La Crosse's industrial park, 2719 Larson Street. Check our interactive map [1] for specific location information.
Diesel & Heavy Equipment Technician 2016-2017 Graduation Employment Stats
| | |
| --- | --- |
| Graduates | 24 |
| Graduates Responding | 4 |
| Employed in Related Occupation | 3 |
| Employed in Non-related Occupations | 0 |
| Seeking Employment | 0 |
| Continuing Education | 1 |
| Not in Labor Market | 0 |
Salary Data - Related Employment
| | Part Time | Full Time |
| --- | --- | --- |
| Responding | 0 | 3 |
| Average Hours Per Week | | 40 |
| Median Hourly Wage | | $22.10 |
| Hourly Wage Range | | $21.00 - $22.42 |
| Median Annual Salary | | $45,964 |
Respondents in Related Occupations
Compact Construction Equipment Tech; Ziegler Caterpillar, Rochester, MN
Heavy Diesel/Equip Technician; John Deere/Tractor Central, Chippewa Falls, WI
Heavy Equipment Mechanic; Joint Logistics Managers Inc., Prince George, VA
Career Opportunities
Diesel Technician
Diesel Mechanic
Field Service Technician
Fleet Mechanic
Heavy Equipment Mechanic
Program Outcomes
Use effective communication skills
Apply mathematical concepts
Transfer social and natural science theories into practical applications
Demonstrate ability to think critically
Demonstrate ability to value self and work ethically with others in a diverse population
Use technology effectively
Make decisions that incorporate the importance of sustainability
Identify strengths and weaknesses in their course of study.
Project a professional image by acts of timeliness, cleanliness, honesty and acceptance of responsibility for actions taken.
Demonstrate a positive attitude, attentive listening skills and the ability to foster personal relationships.
Demonstrate the ability to inspect, diagnose, service and repair major systems related to the diesel transportation and heavy equipment industry.
Practice personal work habits through compliance with all company, brand/vehicle, OSHA and environmental policies.
Admission Requirements:
College Requirements
Accreditation
The Diesel and Heavy Equipment Technician program is accredited by the National Automotive Technicians Education Foundation (NATEF [2]).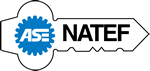 [3]
Career Pathways:
Diesel & Heavy Equipment Technician
Prior Learning:
Previous education and work experience could qualify for Credit for Prior Learning, saving you time and money. Find out more [4] about what may apply to this program.
Technical Diploma:
Diesel & Heavy Equipment Technician
Diesel & Heavy Equipment Technician Assistant
Courses
The following list is not the official course list for this program. It is intended to give students an idea of what coursework will be required.
Current students should use the MyWestern [5] self-service portal when registering for class.
First Term
Diesel Heavy Truck & Forklift Familiariz
Diesel Online Service Utilization
Diesel Safety and Industry Practices
Diesel Truck Brake Systems
Diesel Truck Chassis Systems
Diesel Truck Preventive Maintenance
Second Term
Applied Communication Skills
Diesel Electricity Fundamentals
Diesel Electricity Troubleshooting
Third Term
Applied Math - Transportation
Diesel Advanced Electricity
Fourth Term
Diesel Heavy Equip Inspec & Prev Maint
Diesel Heavy Equipment Live Repair
Diesel Heavy Equipment Powertrains
Diesel Hydraulic/Hydrostatic Systems
Welding – Heavy Equipment Fabrication