Early Childhood Education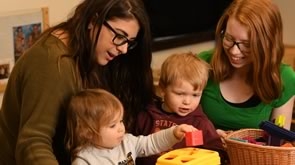 A fun and rewarding career awaits you in early childhood education! In this role, you will use play, art, music, language, and educational tools to help children birth through age eight develop to their full potential. Through a combination of classroom study and field experiences in actual child care settings, you will nurture children of varying abilities and backgrounds, maintain safe and healthy child care environments, and communicate effectively with families. Program includes child development, guiding behavior, and curriculum planning, as well as assessment and regulations in the industry.
Opportunities abound in this ever-growing field with positions available as professional nannies, in child care centers, as teachers and directors, or in schools as teacher assistants. You can also continue your education and earn a birth through grade three teaching degree!
To view the Early Childhood Education program's required disclosure on professional licensure, please click here [1].
Career Opportunities
Child Care Administrator
Early Childhood Teacher
Preschool Teacher
Infant Teacher
Head Start Teacher
Program Outcomes
Living responsibly
Refining professionalism
Cultivating passion
Apply child development theory to practice
Cultivate relationships with children, family, and the community
Assess child growth and development
Use best practices in teaching and learning
Demonstrate professionalism
Integrate health, safety, and nutrition practices
Career Pathways:
Early Childhood Education
Prior Learning:
Previous education and work experience could qualify for Credit for Prior Learning, saving you time and money. Find out more [16] about what may apply to this program.
Certificates:
ECE: Professional Development
Technical Diploma:
Early Childhood Professional
Associate Degree:
Early Childhood Education
Courses
The following list is not the official course list for this program. It is intended to give students an idea of what coursework will be required.
Current students should use the MyWestern [17] self-service portal when registering for class.
First Term
ECE: Hlth Safety & Nutrition
ECE: Infant & Toddler Dev
ECE: Introductory Practicum
Second Term
ECE: Early Language & Literacy
ECE: Intermediate Practicum
Third Term
ECE: Children w Diff Abilities
ECE: Guiding Child Behavior
Fourth Term
ECE: Family & Community Rel