Early Childhood Education
Associate of Applied Science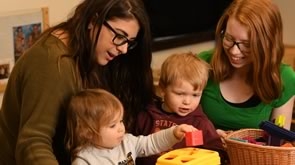 A fun and rewarding career awaits you in early childhood education. In this role, you'll use play, art, music, language, and educational tools to help birth- to school-age children develop cognitively, physically, socially, and emotionally. Through a combination of classroom study and field experience in actual child care settings, you'll learn how to stimulate and nurture children of varying abilities and backgrounds, maintain a safe and healthy child care environment, and communicate effectively with families. You'll learn child development, curriculum planning, and managing behavior. The program also covers government mandates, reporting procedures, and regulations in the industry.
Opportunities abound in this ever-growing field with positions available as professional nannies, in child care centers, as early childhood teachers and directors, or in schools as teacher assistants. Or, continue your education and earn a teaching degree.
Early Childhood Education 2015-2016 Graduation Employment Stats
| | |
| --- | --- |
| Graduates | 7 |
| Graduates Responding | 4 |
| Employed in Related Occupation | 2 |
| Employed in Non-related Occupations | 0 |
| Seeking Employment | 0 |
| Continuing Education | 2 |
| Not in Labor Market | 0 |
Salary Data - Related Employment
| | Part Time | Full Time |
| --- | --- | --- |
| Responding | 0 | 0 |
| Average Hours Per Week | | |
| Median Hourly Wage | | |
| Hourly Wage Range | | |
| Median Annual Salary | | |
Respondents in Related Occupations
Early Childhood; Independence Children's Center, Independence, WI
Teacher; Gundersen Health System, La Crosse, WI
Career Opportunities
Child Care Administrator
Early Childhood Teacher
Preschool Teacher
Infant Teacher
Head Start Teacher
Program Outcomes
Use effective communication skills
Apply mathematical concepts
Transfer social and natural science theories into practical applications
Demonstrate ability to think critically
Demonstrate ability to value self and work ethically with others in a diverse population
Use technology effectively
Make decisions that incorporate the importance of sustainability
Apply child development theory to practice.
Cultivate relationships with children, family, and the community.
Assess child growth and development.
Use best practices in teaching and learning.
Demonstrate professionalism.
Integrate health, safety, and nutrition practices.
Admission Requirements:
College Requirements
Program Specific Requirements
Additional Requirements:
To enroll in the Early Childhood Education program, first apply for admission to the College, then read the program's Essential Functions, complete a background check, and provide proof of immunization (including a TB Test).  You can find links to these documents below. The last step for admission to the program will be to complete an Intent to Enroll form. Please see the details below.
Additional Information
Program Contact
Tracy Craker
Program Chair, Early Childhood Education
608-789-6144
CrakerT@westerntc.edu [5]
Courses
The following list is not the official course list for this program. It is intended to give students an idea of what coursework will be required.
Current students should use the MyWestern [6] self-service portal when registering for class.
First Term
ECE: Hlth Safety & Nutrition
ECE: Infant & Toddler Dev
Second Term
ECE: Art Music & Lang Arts
Intro to Diversity Studies
Third Term
ECE: Children w Diff Abilities
ECE: Guiding Child Behavior
ECE: Math Science & Soc St
Fourth Term
ECE: Family & Community Rel
Intro to Ethics: Theory & App
Supervise/Admin ECE Programs