Food Preparation Assistant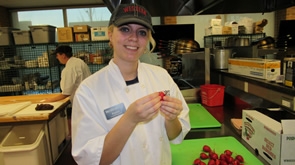 Not Financial Aid Eligible
This 12-credit certificate will prepare you with the skills for food service positions in restaurants, supper clubs, healthcare facilities, resorts, schools, and more! The Food Preparation Assistant program covers kitchen organization and operations, sanitation and quality control, basic food preparation and cooking skills, and quantity food measurement and monitoring. You will gain hands-on experience in Western's food service lab featuring the latest commercial equipment.
Use the credits earned to continue on Western's Culinary Management Pathway to further credentials and increased employment opportunities.
Career Opportunities
Caterer
Short Order Cook
Food Service Assistant
Nutrition Aide
Admission Requirements:
College Requirements
Career Pathways:
Food Preparation Assistant
Prior Learning:
Previous education and work experience could qualify for Credit for Prior Learning, saving you time and money. Find out more [1] about what may apply to this program.
Certificates:
Food Preparation Assistant
Food Industry Aide
Courses
The following list is not the official course list for this program. It is intended to give students an idea of what coursework will be required.
Current students should use the MyWestern [2] self-service portal when registering for class.
First Term
Breakfast & Lunch Cookery
Intro To Food Service Industry
Vegetables, Starches & Grains