Associate of Applied Science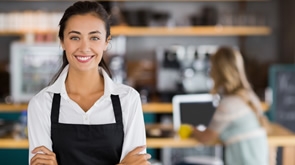 Hospitality is the fastest growing industry in the world, and the second largest industry in Wisconsin. Western's Hospitality Management program will prepare you with the knowledge and skills necessary to supervise staff and manage basic operations in hospitality-oriented organizations. You will gain exposure to different facets of the industry, including food and beverage service, travel and lodging, and recreation and tourism. This associate's degree program covers relevant topics such as customer service, supervision, software applications for business, human resources, event management, sales and promotions, finance, and more. Courses are offered in a convenient online format.
Career Opportunities
Hotel and Lodging Manager
Restaurant General Manager
Banquet Manager
Food and Beverage Director
Maintenance Supervisor
Program Outcomes
Use effective communication skills
Apply mathematical concepts
Transfer social and natural science theories into practical applications
Demonstrate ability to think critically
Demonstrate ability to value self and work ethically with others in a diverse population
Use technology effectively
Make decisions that incorporate the importance of sustainability
Admission Requirements:
College Requirements
Courses
The following list is not the official course list for this program. It is intended to give students an idea of what coursework will be required.
Current students should use the MyWestern [1] self-service portal when registering for class.
First Term
Principles of Hospitality Management
Professional Development Strategies
Software Appl for Business
Second Term
Customer Service Management
Legal Issues for the Workplace
Fourth Term
Human Resource Management
Fifth Term
Hospitality Event Management
Hospitality Sales and Promotions