Industrial & Electrical Technician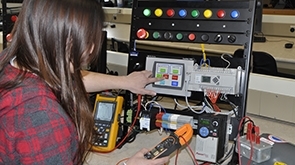 Be the go-to person at the plant with knowledge of electrical controls and industrial maintenance. The technical diploma offered through this program is a great entry point or a convenient way to expand your skills and increase your value to your employer. The program covers basic electrical systems, motors, motor controls, and programmable logic controllers. You will also get training in hydraulics, pneumatics, mechanical drives, pumps, gearboxes, welding, and machining to provide a well-rounded maintenance background. Necessary math skills are taught as part of the electrical courses in a strictly applied manner.
In this role, you will work with electricians and electromechanical technicians to install, repair, and maintain industrial electronic equipment. The program was designed for traditional students as well as current and displaced workers. Many options exist from part-time attendance to pathways into another diploma, associate degree, or apprenticeship program.
Industrial & Electrical Technician 2015-2016 Graduation Employment Stats
| | |
| --- | --- |
| Graduates | 12 |
| Graduates Responding | 5 |
| Employed in Related Occupation | 5 |
| Employed in Non-related Occupations | 0 |
| Seeking Employment | 0 |
| Continuing Education | 0 |
| Not in Labor Market | 0 |
Salary Data - Related Employment
| | Part Time | Full Time |
| --- | --- | --- |
| Responding | 0 | 3 |
| Average Hours Per Week | | 40 |
| Median Hourly Wage | | $19.00 |
| Hourly Wage Range | | $15.00 - $19.85 |
| Median Annual Salary | | $39,520.00 |
Respondents in Related Occupations
Electro Mechanical Technician; Westby Creamery, Westby, WI
Maintenance Technician; Cardinal, Tomah, WI
Property Maintenance; Axium Properties, DeKalb, IL
Service Tech; Multistack, Sparta, WI
Welder; LaX Fabricating, Spring Grove, MN
Career Opportunities
Electrician Apprentice
Elevator Repair and Maintenance Apprentice
Electrical Maintenance Technician
Field Service Technician
Maintenance Technician
Maintenance Mechanic
Machine Repairer
Industrial Machinery Mechanic
Security/Alarm Installation Technician
Service Technician
Program Outcomes
Use effective communication skills
Apply mathematical concepts
Transfer social and natural science theories into practical applications
Demonstrate ability to think critically
Demonstrate ability to value self and work ethically with others in a diverse population
Use technology effectively
Make decisions that incorporate the importance of sustainability
Admission Requirements:
College Requirements
Program Specific Requirements
Additional Requirements:
To enroll in the Industrial and Electrical Technician program, first apply for admission to the College. Once your application is processed, you will be asked to set up a meeting with an instructor to go over the expectations of the program. 
Career Pathways:
Industrial & Electrical Technician
Prior Learning:
Previous education and work experience could qualify for Credit for Prior Learning, saving you time and money. Find out more [1] about what may apply to this program.
Certificates:
Electrical Fundamentals & PLCs
Technical Diploma:
Manufacturing Systems Maintenance Technician
Industrial & Electrical Technician
Basic Industrial Power
Courses
The following list is not the official course list for this program. It is intended to give students an idea of what coursework will be required.
Current students should use the MyWestern [2] self-service portal when registering for class.
First Term
Intro to Industrial Controls
Second Term
Digital & PLC Ladder Logic
Electrical Technical Skills
Electronic Component Applications
Machining for Maintenance