Landscape Horticulture Technician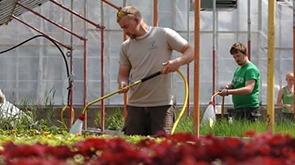 With an interest in creating, designing, building, and otherwise improving outdoor spaces, you'll have many opportunities in the field of landscape horticulture.
A combination of creativity and technical knowledge of plants and soils, along with a desire to work outdoors, means you can find employment in a number of fields, including landscape design, landscape construction, and landscape maintenance. You could find yourself working in a greenhouses or garden center, a golf course, an outdoor sporting venue, or on a park or maintenance crew. You might even choose to go into business for yourself. And, you could be ready to enter your career within one year!
The nature of the Landscape Horticulture program demands that much of the learning takes place in the field and in Western's on-campus Horticulture Education Center. You'll learn to evaluate landscape construction systems, determine suitability of plants for placement, understand turf management, identify common landscape pests, and be able to identify soils and correct soil deficiencies, all with principles of sustainability in mind. Additionally, you will gain experience in our state of the art greenhouse facility.
*Please note that the delivery method for fall courses may change as the COVID-19 situation unfolds. Our goal is to ensure that teaching and learning happens in a safe environment. We will communicate updates as quickly as possible.
Career Opportunities
Plant Health Care Technician
Landscape Installation Technician
Lawn Care Technician
Greenhouse Technician
Irrigation Installation Technician
Tree & Shrub Care Technician
Landscape Maintenance Technician
Program Outcomes
Living responsibly
Refining professionalism
Cultivating passion
Analyze growing media
Diagnose plant health
Communicate as a horticulture professional
Apply design principles
Provide horticulture maintenance
Apply the principles of plant science
Admission Requirements:
College Requirements
Career Pathways:
Landscape Horticulture Technician
Prior Learning:
Previous education and work experience could qualify for Credit for Prior Learning, saving you time and money. Find out more [1] about what may apply to this program.
Certificates:
Horticultural Plant Health Care
Technical Diploma:
Landscape Horticulture Technician
Courses
The following list is not the official course list for this program. It is intended to give students an idea of what coursework will be required.
Current students should use the MyWestern [2] self-service portal when registering for class.
First Term
Herbaceous Plant Identification
Introductory Plant Science
Woody Plant Identification
Second Term
Ornamental Plant Health Care