Associate of Applied Science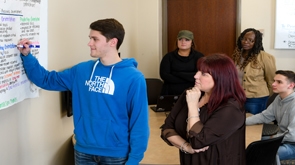 If managing a team, planning business strategies, and being creative every day appeals to you, a career in marketing management can be an interesting and rewarding choice. In this program you'll learn to use the latest tools and develop skills in promotion, advertising, event planning, public relations, customer relationship strategies, sales techniques, and effective business use of social media.
A variety of careers are available within retail, manufacturing, distribution, and service businesses, nonprofits, and even government agencies. Marketing skills are also very important for entrepreneurs who operate their own businesses.
*Please note that the delivery method for fall courses may change as the COVID-19 situation unfolds. Our goal is to ensure that teaching and learning happens in a safe environment. We will communicate updates as quickly as possible.
Marketing Management 2018-2019 Graduation Employment Stats
| | |
| --- | --- |
| Graduates | 5 |
| Graduates Responding | 1 |
| Employed in Related Occupation | 0 |
| Employed in Non-related Occupations | 0 |
| Seeking Employment | 0 |
| Continuing Education | 1 |
| Not in Labor Market | 1 |
Salary Data - Related Employment
| | Part Time | Full Time |
| --- | --- | --- |
| Responding | 0 | 0 |
| Average Hours Per Week | | |
| Median Hourly Wage | | |
| Hourly Wage Range | | |
| Median Annual Salary | | |
Respondents in Related Occupations
No occupations reported.
Career Opportunities
Advertising and Promotions Manager
Marketing Manager
Market Research Analysts and Marketing Specialists
Public Relations Specialists
Advertising Sales Agents
Market Research Analysts and Marketing Specialists
Program Outcomes
Living responsibly
Refining professionalism
Cultivating passion
Develop strategies to anticipate and satisfy market needs
Promote products, services, images, and/or ideas to achieve a desired outcome
Evaluate information through the market research process to make business decisions
Prepare selling strategies
Admission Requirements:
College Requirements
Courses
The following list is not the official course list for this program. It is intended to give students an idea of what coursework will be required.
Current students should use the MyWestern [1] self-service portal when registering for class.
First Term
Marketing Career Preparation
Software Appl for Business
Second Term
Digital Design Components
Third Term
Project Management Principles
Fourth Term
Personal Brand Management