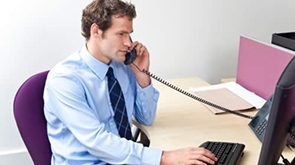 Not Financial Aid Eligible
The Sales Fundamentals program is designed to prepare you for a career in sales or customer service. This one-term, four-course certificate program teaches the skills that help you represent a business or service. You'll learn customer service and problem-solving, professionalism, selling principles, and business software in preparation for roles in which first impressions matter including inbound sales representatives and customer service professionals.
Completion of the course puts you on the path to a technical diploma in the Sales Representative Program, which can lead to an associate's degree in Sales Management if you choose. Either way, you'll be developing the skills that employers value.
Career Opportunities
Sales and Related Workers
Admission Requirements:
College Requirements
Career Pathways:
Prior Learning:
Previous education and work experience could qualify for Credit for Prior Learning, saving you time and money. Find out more [1] about what may apply to this program.
Certificates:
Customer Service Representative
Sales Fundamentals
Courses
The following list is not the official course list for this program. It is intended to give students an idea of what coursework will be required.
Current students should use the MyWestern [2] self-service portal when registering for class.
First Term
Professionalism and Success
Software Appl for Business