Electronic & Computer Engineering Technology - EET
Associate of Applied Science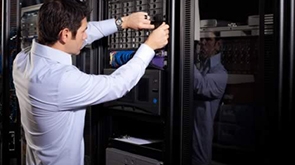 A degree in Electrical Engineering Technology opens the door to many lucrative options. Upon completion of this associate's degree, you can land a job in a high-tech field or pursue a bachelor's degree at the Milwaukee School of Engineering (MSOE). Western's agreement with MSOE lets students who complete the program enter the Electrical Engineering program.
Electrical engineering technicians work with electrical engineers to design and maintain a variety of circuits and systems, from PC networking to industrial electronics and communications systems. A combination of classroom study and hands-on lab work leads to a final capstone project in which you will design and complete a project that includes a hardware and software component, a written report and oral presentation, budget, schematics, and a daily log of progress. General education classes in writing, speech, sociology, and psychology help prepare you for success.
Career Opportunities
Industrial Maintenance Technician
Electrician Helper
Maintenance Mechanic
Service Technician
Test Technician
Program Outcomes
Use effective communication skills
Apply mathematical concepts
Transfer social and natural science theories into practical applications
Demonstrate ability to think critically
Demonstrate ability to value self and work ethically with others in a diverse population
Use technology effectively
Make decisions that incorporate the importance of sustainability
Admission Requirements:
College Requirements
Program Specific Requirements
Additional Requirements:
To enroll in the Electronic & Computer Engineering Technology - EET program, first apply for admission to the College. Once your application is processed, you will be asked to set up a meeting with an instructor to go over the expectations of the program.
Courses
The following list is not the official course list for this program. It is intended to give students an idea of what coursework will be required.
Current students should use the MyWestern [1] self-service portal when registering for class.
First Term
College Technical Math 1A
College Technical Math 1B
Second Term
Digital Electronic Concepts
Fourth Term
Data Communications and Networking
Integrated Circuit Applications
Fifth Term
Industrial Control Systems