Electromechanical Technology
Associate of Applied Science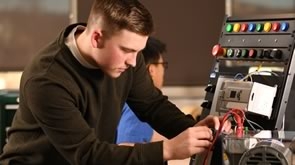 With the mechanical and technical skills developed through our Electromechanical Technology program, you'll be well prepared for a rewarding career in manufacturing. A combination of theory and hands–on experience, as well as general education courses, will give you the skills needed to enter a high-demand field working with automated control systems that integrate with computers, hydraulics, pneumatics, and mechanical control systems. You'll be exposed to the latest technology in the field and graduate with an up-to-date skill set.
The program emphasizes programmable logic controls, motor controls, circuit operations, and digital and analog systems. Graduates may work with computer-controlled machine tools, programmable logic controllers, fluid power systems, mechanical drives and mechanisms, automated systems, and robotics, to name a few of the many options.
*Please note that the delivery method for fall courses may change as the COVID-19 situation unfolds. Our goal is to ensure that teaching and learning happens in a safe environment. We will communicate updates as quickly as possible.
Electromechanical Technology 2018-2019 Graduation Employment Stats
| | |
| --- | --- |
| Graduates | 14 |
| Graduates Responding | 6 |
| Employed in Related Occupation | 4 |
| Employed in Non-related Occupations | 0 |
| Seeking Employment | 0 |
| Continuing Education | 2 |
| Not in Labor Market | 2 |
Salary Data - Related Employment
| | Part Time | Full Time |
| --- | --- | --- |
| Responding | 0 | 4 |
| Average Hours Per Week | | |
| Median Hourly Wage | | |
| Hourly Wage Range | | |
| Median Annual Salary | | |
Respondents in Related Occupations
No occupations reported.
Career Opportunities
Electro-Mechanical Technicians
Electromechanical Engineering Technologists
Electrical and Electronics Repairers, Commercial and Industrial Equipment
Electricians
Control and Valve Installers and Repairers, Except Mechanical Door
Mechanical Engineering Technologists
Electronics Engineering Technicians
Electronics Engineering Technologists
Electrical Engineering Technicians
Mechanical Engineering Technicians
Signal and Track Switch Repairers
Manufacturing Production Technicians
Robotics Technicians
Program Outcomes
Living responsibly
Refining professionalism
Cultivating passion
Build or assemble electromechanical hardware
Adhere to proper safety practices and procedures
Troubleshoot and repair electromechanical and electronic equipment and systems
Perform preventative maintenance
Maintain parts and equipment inventory including service documentation
Install, modify and program industrial network systems on the devices and control levels
Modify, install, and maintain hydraulic and pneumatic systems
Modify, install, maintain, and program electronic and electromechanical systems
Perform work safely
Troubleshoot electrical and mechanical systems and devices
Repair electrical and mechanical systems
Communicate Technical Information
Integrate electrical and mechanical systems and devices
Adhere to all personal and professional rules, guidelines, and industry standards when in class or on the Western campus
Admission Requirements:
College Requirements
Career Pathways:
Electromechanical Technology
Prior Learning:
Previous education and work experience could qualify for Credit for Prior Learning, saving you time and money. Find out more [1] about what may apply to this program.
Technical Diploma:
Electromechanical Maintenance Technician
Industrial Machine Controls
Associate Degree:
Electromechanical Technology
Courses
The following list is not the official course list for this program. It is intended to give students an idea of what coursework will be required.
Current students should use the MyWestern [2] self-service portal when registering for class.
First Term
Basic Industrial Controls
College Technical Math 1A
Intro to Electromechanical Technology
Machining for Maintenance
Second Term
Basic PLC Programming with Digital
Third Term
Automation Systems Integration
Fourth Term
Industrial Electronic Devices
Integration Application Capstone