Human Resource Management
Associate of Applied Science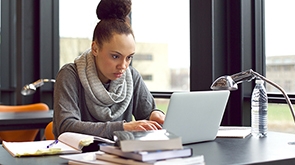 If you enjoy helping others, and you're looking for a rewarding career that offers both variety and opportunity, explore the Human Resource Management program. Jobs in this field provide an opportunity to interact with diverse groups of people in a variety of settings. The success of any organization depends on getting the right person in the right job, and in this role you can make a huge impact. The program covers the seven key areas of HR: safety, employment law, training, employee and labor relations, compensation and benefits, international human resources, and staffing. Positions are available in business, manufacturing, non-profit organizations, and government agencies.
As an HR professional, you may find yourself recruiting and selecting employees, implementing compensation systems, developing employment policies, creating training programs, promoting safety, monitoring compliance with employment law, strategic planning, employee relations, and measuring employee satisfaction.
*Please note that the delivery method for fall courses may change as the COVID-19 situation unfolds. Our goal is to ensure that teaching and learning happens in a safe environment. We will communicate updates as quickly as possible.
Human Resource Management 2019-2020 Graduation Employment Stats
| | |
| --- | --- |
| Graduates | 5 |
| Graduates Responding | 2 |
| Employed in Related Occupation | 1 |
| Employed in Non-related Occupations | 0 |
| Seeking Employment | 0 |
| Continuing Education | 0 |
| Not in Labor Market | 1 |
Salary Data - Related Employment
| | Part Time | Full Time |
| --- | --- | --- |
| Responding | 0 | 1 |
| Average Hours Per Week | | |
| Median Hourly Wage | | |
| Hourly Wage Range | | |
| Median Annual Salary | | |
Respondents in Related Occupations
No occupations reported.
Career Opportunities
Staffing Consultant/Recruiter
Human Resource Generalist/Assistant
Benefits Specialist
Talent Acquisition Specialist
HR Assistant/Payroll Coordinator
Recruiting Coordinator
Program Outcomes
Living responsibly
Refining professionalism
Cultivating passion
Create an organizational workforce plan
Develop training programs
Examine organizational total rewards programs
Incorporate employment law into business practices
Facilitate effective employee relations
Admission Requirements:
College Requirements
Courses
The following list is not the official course list for this program. It is intended to give students an idea of what coursework will be required.
Current students should use the MyWestern [1] self-service portal when registering for class.
First Term
Occupational Safety & Health
Second Term
Organizational Training & Dev
Recruit & Selection Strategies
Third Term
Introduction to Diversity Studies
Software Appl for Business
Fourth Term
Employee and Labor Relations
Fifth Term
Hum Resource Internatl Issues
Human Resource Applications