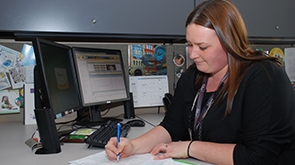 Not Financial Aid Eligible
Working in HR or have experience, but no formal training in human resources? Interested in increasing your skills and taking on more responsibility at work? Knowledge of human resource issues can help you expand your present role and increase job satisfaction.
The Human Resources certificate program introduces you to the core human resource topics of employee and labor relations, employment law, employee benefits, recruitment and selection, and training and development. Armed with this knowledge, you can be more confident of your abilities in your human resource role.
*Please note that the delivery method for fall courses may change as the COVID-19 situation unfolds. Our goal is to ensure that teaching and learning happens in a safe environment. We will communicate updates as quickly as possible.
Career Opportunities
Human Resource Assistant
Benefits Clerk
Employment Assistant
Human Resources Clerk
Personnel Assistant
Admission Requirements:
College Requirements
Courses
The following list is not the official course list for this program. It is intended to give students an idea of what coursework will be required.
Current students should use the MyWestern [1] self-service portal when registering for class.
First Term
Employee and Labor Relations
Second Term
Organizational Training & Dev
Recruit & Selection Strategies