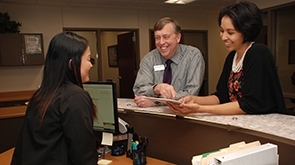 Not Financial Aid Eligible
These five courses focus on building interpersonal skills, communication skills, and customer service competencies. The goal is to build upon the knowledge and experience you already have to increase your effectiveness in the workplace.
Designed with the working person in mind, classes are offered in person, online, a combination of the two, and via Interactive Distance Learning.
*Please note that the delivery method for fall courses may change as the COVID-19 situation unfolds. Our goal is to ensure that teaching and learning happens in a safe environment. We will communicate updates as quickly as possible.
Career Opportunities
Customer Service Representative
Admission Requirements:
College Requirements
Courses
The following list is not the official course list for this program. It is intended to give students an idea of what coursework will be required.
Current students should use the MyWestern [1] self-service portal when registering for class.
First Term
Business Communication Skills
Personal and Professional Development
Second Term
Intro to Ethics: Theory & App