IT-Network Systems Administration
Associate of Applied Science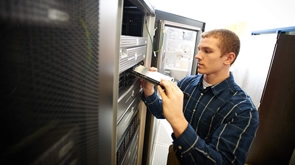 Your interest in computer systems can translate into a career as a valued member of a technical team. In-demand network systems administrators install, maintain, troubleshoot, and upgrade computer networks to keep businesses operating smoothly.
Through this program you will explore both Wide Area Networks (WANs) and Local Area Networks (LANs). Other responsibilities could include installing and managing client and server software, enforcing account security, implementing backup and disaster plans, and protecting the network from malware.
Technical courses are taught with a combination of classroom study and lab work, and all students complete their studies with an internship.
IT-Network Systems Administration 2015-2016 Graduation Employment Stats
| | |
| --- | --- |
| Graduates | 9 |
| Graduates Responding | 7 |
| Employed in Related Occupation | 6 |
| Employed in Non-related Occupations | 1 |
| Seeking Employment | 0 |
| Continuing Education | 0 |
| Not in Labor Market | 0 |
Salary Data - Related Employment
| | Part Time | Full Time |
| --- | --- | --- |
| Responding | 3 | 2 |
| Average Hours Per Week | 27 | 38 |
| Median Hourly Wage | $18.00 | $18.27 |
| Hourly Wage Range | $10.00 - $20.00 | $18.03 - $18.50 |
| Median Annual Salary | $26,208.00 | $36,067.00 |
Respondents in Related Occupations
Computer Support Specialist; La Crosse County, La Crosse, WI
Computer Technician; LHI, La Crosse, WI
Help Desk Coordinator; Dairyland Power Cooperative, La Crosse, WI
IT Help Desk Technician; Gundersen Health System, La Crosse, WI
Systems Administrator; E.O.Johnson, Onalaska, WI
Technician; Best Buy, Onalaska, WI
Career Opportunities
Network Administrator
Network Analyst
Unix/Linux System Administrator
Windows System Administrator
Program Outcomes
Use effective communication skills
Apply mathematical concepts
Transfer social and natural science theories into practical applications
Demonstrate ability to think critically
Demonstrate ability to value self and work ethically with others in a diverse population
Use technology effectively
Make decisions that incorporate the importance of sustainability
Configure and Administer Network Operating Systems
Design and Administer Network Infrastructure
Protect Network and System Against Intrusion
Support and Train End Users regarding Hardware and Software Issues
Develop and Maintain System Documentation, Baseline Data, and Business Continuity Plans
Coordinate and Manage IT Projects and Assets in a Business Environment
Demonstrate a strong work ethic, utilize time management skills, display initiative and work cooperatively as part of an effective team
Admission Requirements:
College Requirements
Career Pathways:
IT-Network Systems Administration
Prior Learning:
Previous education and work experience could qualify for Credit for Prior Learning, saving you time and money. Find out more [1] about what may apply to this program.
Associate Degree:
IT-Network Systems Administration
Courses
The following list is not the official course list for this program. It is intended to give students an idea of what coursework will be required.
Current students should use the MyWestern [2] self-service portal when registering for class.
First Term
Introduction to Information Technology
IT Hardware/Software Fund
Second Term
Cisco 2: Routing Technologies
Third Term
Cisco 3: Adv Routing/Switching
Windows PowerShell Scripting
Fourth Term
Cisco 4: Enterprise Networking
Database Server Administration
Psychology of Human Relations
Fifth Term
Intro to Ethics: Theory & App
Network Service and Support